La marca de Atenea / The Mark of Athena (Los héroes del Olimpo / The Heroes of Olympus #3) (Hardcover)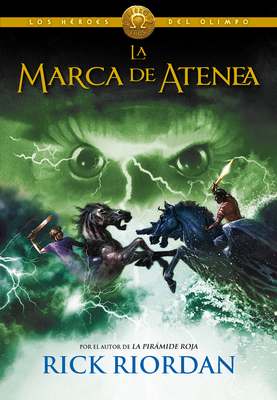 $15.95

Usually Ships in 1-5 Days
Staff Reviews
---
Mark of Athena by Rick Riordan is fantastic.  He just keeps getting better with every book, of course this means that we read it nonstop and then are anxiously waiting for the next book.  The story picks up right where The Son of Neptune ended.  Annabeth, Jason, Piper, and Leo are all flying along in the Argo II hoping that Camp Jupiter doesn't think they are trying to start a war.  This paired with the weight of having the coin that Athena, her mother, gave her with the words "avenge me"  attached  as made life a little stressful for Annabeth.  However, this is not discouraging her from tracking down Athena's statue and making things right.
Riordan writes such beautiful descriptions; I was in awe when he the described the statue of Athena.    He  also has such a gift for keeping his readers glued to his every word.  The tale never becomes repetitive or mundane.  In fact, they become more suspenseful and every bit of the story is packed with adventure.  This has been such a great spin off series from the Percy Jackson and the Olympians and is wonderful for all ages.
— Sherry
Description
---
Una lucha milenaria. Siete adolescentes en apuros. Y el fin del mundo a la vuelta de la esquina.

El destino de la humanidad pende de un hilo: Gaia, la madre Tierra, ha abierto de par en par las Puertas de la Muerte para liberar a sus despiadados monstruos. Los únicos que pueden cerrarlas son Percy, Jason, Piper, Hazel, Frank, Leo y Annabeth, el equipo de semidioses griegos y romanos elegido por una antigua profecía. Pero su misión es todavía más difícil de lo que parece: sospechan que para encontrar las puertas deberán cruzar el océano, tienen solo seis días para conseguirlo y, por si fuera poco, acaba de estallar la guerra entre sus dos campamentos y ahora ellos son un objetivo.

¿Lograrán ganar esta carrera de obstáculos contrarreloj?

ENGLISH DESCRIPTION

In The Son of Neptune, Percy, Hazel, and Frank met in Camp Jupiter, the Roman equivalent of Camp Halfblood, and traveled to the land beyond the gods to complete a dangerous quest.

The third book in the Heroes of Olympus series will unite them with Jason, Piper, and Leo. But they number only six--who will complete the Prophecy of Seven?

The Greek and Roman demigods will have to cooperate in order to defeat the giants released by the Earth Mother, Gaea. Then they will have to sail together to the ancient land to find the Doors of Death. What exactly are the Doors of Death? Much of the prophecy remains a mystery. 

With old friends and new friends joining forces, a marvelous ship, fearsome foes, and an exotic setting, The Mark of Athena is be another unforgettable adventure by master storyteller Rick Riordan.  
About the Author
---
Rick Riordan trabajó como profesor de lengua, historia y cultura clásica en San Francisco y San Antonio hasta que pudo retirarse para escribir a tiempo completo. Sus series juveniles PERCY JACKSON Y LOS DIOSES DEL OLIMPO (panteón griego), LAS CRÓNICAS DE LOS KANE (panteón egipcio) y LOS HÉROES DEL OLIMPO (panteones griego y romano) son un éxito de ventas en todo el mundo