Dead Ever After (Hardcover)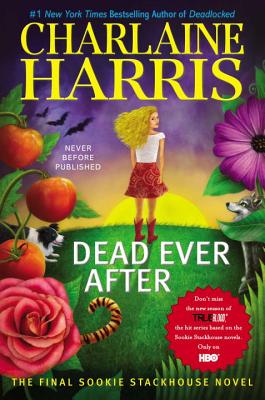 Other Books in Series
This is book number 13 in the Sookie Stackhouse Novels series.
Staff Reviews
---
Charlaine Harris' Dead Ever After concludes the story of Sookie Stackhouse in a very dramatic but satisfying way.  Sookie's life has become a bit hectic lately.  Her relationship with Eric is on rocky ground, things with Sam are still weird but starting to  get back to normal, and now she is being charged with murder.  The news of her being arrested immediately brings all of her old friends back to help and support her.  And of course, Sookie will not rest until she discovers who the true murderer is.
I thought Dead Ever After was a nice wrap up to the series.   The book was filled with everything that we have grown to love about Sookie and Bon Temps.  Sookie was still funny, there was an exciting mystery to solve, and of course a touch of romance to keep things interesting.   Harris made sure to bring back characters that we all loved as well as the not so loved, giving a little closure with all of the characters.  There have been mixed feeling about who Sookie finally falls in love with and stays with, but I thought it was perfect.   I think that Harris picked the perfect person for Sookie.  When you think about all the things that she loves and who she is as a person, then you realize how perfect the ending truly is.  I am looking forward to what Harris creates next.  She did leave a little wiggle room for a few spin off series featuring some of the other characters, but who knows what she will come up with. In the meantime, there's always her other series to read.  Our staff favorite, aside from the True Blood series, would be the Grave series.  It is a fantastic paranormal mystery.
— Sherry
Description
---
THE FINAL SOOKIE STACKHOUSE NOVEL
There are secrets in the town of Bon Temps, ones that threaten those closest to Sookie--and could destroy her heart....
Sookie Stackhouse finds it easy to turn down the request of former barmaid Arlene when she wants her job back at Merlotte's. After all, Arlene tried to have Sookie killed. But her relationship with Eric Northman is not so clearcut. He and his vampires are keeping their distance...and a cold silence. And when Sookie learns the reason why, she is devastated.
Then a shocking murder rocks Bon Temps, and Sookie is arrested for the crime.

But the evidence against Sookie is weak, and she makes bail. Investigating the killing, she'll learn that what passes for truth in Bon Temps is only a convenient lie. What passes for justice is more spilled blood. And what passes for love is never enough...
About the Author
---
Charlaine Harris is a New York Times bestselling author for both her Sookie Stackhouse fantasy/mystery series and her Harper Connelly Prime Crime mystery series. She has lived in the South her entire life.
Praise For…
---
"The Sookie Stackhouse series seamlessly mixes sensuality, violence, and humor."—Boulder Weekly

"Harris's creation offers a magical and mysterious twist on traditional vampire stories."—Houston Chronicle

"What sucked me in? Definitely the books' oddly charming, often funny mix of the mundane and the absurd. And the chills and thrills in boudoirs and various locales around the South aren't too bad either."—The Seattle Times