The Mime Order (The Bone Season) (Paperback)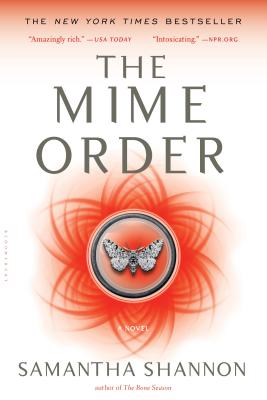 $17.00
Usually Ships in 1-5 Days
Description
---
Paige Mahoney has escaped the brutal prison camp of Sheol I, but her problems have only just begun: many of the survivors are missing and she is the most wanted person in London . . .
As Scion turns its all-seeing eye on Paige, the mime-lords and mime-queens of the city's gangs are invited to a rare meeting of the Unnatural Assembly. Jaxon Hall and his Seven Seals prepare to take center stage, but there are bitter fault lines running through the clairvoyant community and dark secrets around every corner.
Then the Rephaim begin crawling out from the shadows. Paige must keep moving, from Seven Dials to Grub Street to the secret catacombs of Camden, until the fate of the underworld can be decided.
About the Author
---
Samantha Shannon was born in West London in 1991. She started writing at the age of fifteen and studied English language and literature at St. Anne's College, Oxford. The Bone Season, the first in a seven-book series, was a New York Times bestseller and the inaugural Today Book Club selection. It has been translated into twenty-eight languages and film rights have been sold to 20th Century Fox. The Mime Order was also a New York Times bestseller. The newest book in the series is The Song Rising.
@say_shannon
www.samantha-shannon.blogspot.com
Praise For…
---
"An intoxicating urban-fantasy series . . . Shannon's haunting dystopian universe is rich in detail, consistent, suffused with familiar afternotes . . . Like Paige Mahoney, Shannon now has proven staying power. Her fans will be calling for more." —NPR.org
"A gripping sequel." —US Weekly
"If anyone was wondering how Shannon would stretch this story into seven books, the gut punch of the last line in The Mime Order will instead have them on tenterhooks for the next five." —USA Today
"Shannon creates vividly dilapidated, macabre, and mysterious worlds . . . The nonstop, often eerie action is riveting . . . A Clockwork Orange meets A Tale of Two Cities meets Harry Potter in this clever, caring, and spellbinding tale, which promises more to come . . . as Shannon's exceptional fantasy saga continues." —starred review, Booklist
"[The Mime Order] will solidify the series' rightful place among the best of fantasy, sci-fi and dystopian fiction." —Shelf Awareness
"Full of the action, turns, and surprising revelations that readers have come to expect from Shannon, this new installment ends on a wholly unexpected twist." —Library Journal
"Shannon's world-building is original and intriguing, especially the complex, almost mythic voyant underground." —Publishers Weekly
"Her legion of fans will once again be here for the propulsive plot." —Kirkus Reviews
"With a unique plot, impeccable world-building and important character connections, The Mime Order outshines its predecessor and becomes an intelligent, adventurous read." —Deseret News