Winds of Salem: A Witches of East End Novel (Beauchamp Family #3) (Compact Disc)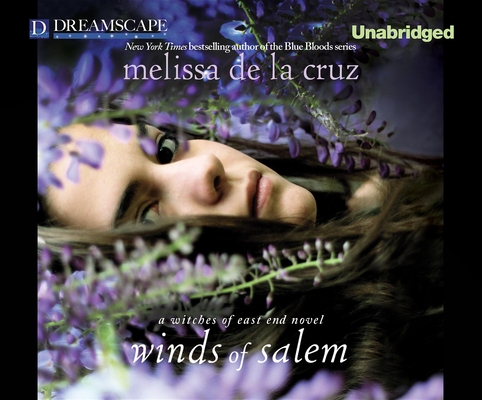 $59.99
Usually Ships in 1-5 Days
Staff Reviews
---
Winds of Salem is the third book in the Witches of East End series by Melissa de la Cruz and it is just as fun and sexy as the previous two novels.  Freya has mysteriously been swept back in time to 1692 and finds herself caught up in the Salem witch trials – for a second time.  Only she doesn't realize that she is living this life again since her memory has been erased.  As she attempts to be a good Puritan woman, her sister and mother are desperately trying to find a way to bring her back to the twenty – first century.  Although, the world of magic seems to be dwindling and the two are finding it hard to go back in time to rescue Freya.
I found the beginning to be a little slow as we are introduced to Salem Village and all of the girls involved in the witch hunt.  However, things are always crazy in the twenty-first century with Ingrid and Joanna.  I really liked how much Freddie was involved in this novel.  His life seems  a bit chaotic, and lets face it, we want to know what happened to his trident and the bridge, so it was fun to see him more of a main character this time.  I think my favorite part about this series is that it follows one family.  They are all a little quirky (after all they are goddess and gods trapped on earth) but they are all so warm and entertaining.  The family members don't interact that much but they are willing to do anything for their family and friends.   If you are looking for a  new paranormal romance series to start, this would be a excellent choice.
— Jody
Description
---
Freya Beauchamp has been kidnapped and sucked into the past, forced to relive the horrors of Salem and return to the witch-burning hysteria that gripped the small Massachusetts town. Freya's family is determined to save her, but the Passages of Time are closed to the Beauchamp family, leaving them stuck in the present. Joanna, Freddie, and Ingrid must find another way back to save Freya before it's too late. Because this time, when Freya is hanged, she's not coming back... ever. The Beauchamps are sure that their nemesis, the trickster god Loki, is behind Freya's kidnapping - but is the witch hunt just a way for the power-seeking Putnam family to settle scores and consolidate their hold on the lands and power in town?
About the Author
---
Melissa de la Cruz is the author of many bestselling novels, including all the books in the Blue Bloods series: Blue Bloods, Masquerade, Revelations, The Van Alen Legacy, Keys to the Repository, Misguided Angel, Bloody Valentine, and Lost in Time. She lives in Los Angeles, California, with her husband and daughter, and is hard at work on the next book in the Blue Bloods saga. READER BIO Katie Schorr has narrated numerous audiobooks, including The Immortals series and The Shadow Falls series. She is a performer at the Upright Citizens Brigade Theatre, has filmed various national commercials, and co-stars in the web series Yoga Partners - www.yogapartnerswebseries.com.