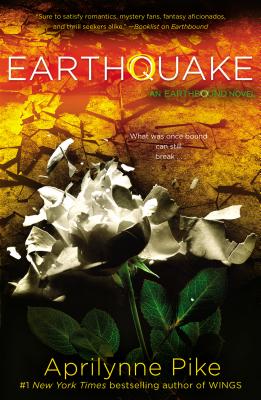 Staff Reviews
---
Aprilynne Pike's latest novel Earthbound is a fantastic beginning to what is sure to be a great series.  Tavia is hiding-out with her aunt and uncle after being the only survivor of plane crash.  She lost both of her parents and is now just trying to piece her life back together.  On the plus side, she met a cute boy at the library who seems to be the only one pulling her out of her haze of grief and recovery.  Things are starting to go back to normal – whatever that is – until Tavia starting seeing a mystery boy who is dressed in clothes dating back to the 1800?s.  However all of this is only the beginning of "strange new occurrences" for Tavia and before long she and Benson, her library boy, are fleeing from her aunt and uncle.
I am so excited for this new series.  Pike has  a very lush and dynamic language that made it very easy to escape into her story, specifically when describing the cold.   I felt like I was walking outside in the bitter colds of the arctic.  Her characters are engaging and believable.  I really like Tavia.  She is an amazingly well developed character and I found her to have a unique voice that immediately pulls you into the story.  I also liked that she isn't a petty shallow character, but is a girl who is already thinking for herself before the crisis happens.  Although surviving a plane crash does seem like it would make you more grown-up than simply going to school and learning that you have a cool supernatural ability. Needless to say, I am eagerly awaiting book two.
— Jody
Description
---
Tavia Michaels has discovered that she's an Earthbound a fallen goddess with the power to remake the Earth and that a rival faction of Earthbounds, the Reduciata, has created a virus that is literally wiping swaths of the planet out of existence.
Tavia is captured and imprisoned before she can act on this information, along with her eternal lover, Logan. Huddled in a claustrophobic cell, they lose track of the days, their attempts to escape proving as ephemeral as Tavia's newly gestating powers. But then Tavia and Logan are mysteriously rescued. . . .
They re brought to the underground headquarters of the Curatoria, another group of Earthbounds that Tavia doesn t fully trust. There, she's told that she can save the Earth before it disappears. She agrees.
Tavia quickly realizes that she isn t like other Earthbound, and as her abilities continue to awaken, they begin to threaten her centuries-long relationship with Logan. When Benson Tavia's former best friend and romantic interest appears at Curatoria headquarters, Tavia will again have to make a choice about who to be with even as she tries to stop the virus that is destroying the world and uncover the truth about the two Earthbound organizations that have her tangled up in their webs.
About the Author
---
Aprilynne Pike (www.aprilynnepike.com) is the #1 "New York Times" bestselling author of the Wings series. She has been spinning stories since she was a child with a hyperactive imagination. When not writing, Aprilynne can usually be found out running; she also enjoys singing, acting, and (of course!) reading books about magic and kissing. Aprilynne lives in Arizona with her husband and four kids.
Praise For…
---
Praise for Earthbound:

"[A] riveting page-turner. . . . Sure to satisfy romantics, mystery fans, fantasy aficionados, and thrill seekers alike."—Booklist

"Pike's . . . solid writing, particularly in her descriptions, will have readers hooked."—Publishers Weekly

"Readers of supernatural romance will be clamoring for this one."—School Library Journal

"The premise of Earthbound is enough to give even the most jaded of readers the shivers."—Romantic Times

"Promising start to a new series that offers history, romance, and action."—Kirkus Reviews

"A magical, mythical tale, The mystery simmers." –Becca Fitzpatrick, New York Times bestselling author of Hush, Hush