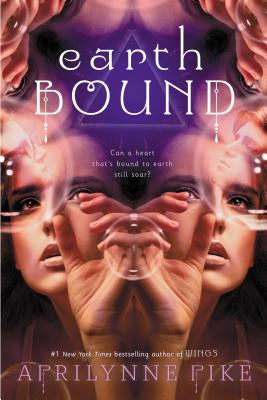 Other Books in Series
This is book number 1 in the Earthbound Novels series.
Staff Reviews
---
Aprilynne Pike's latest novel Earthbound is a fantastic beginning to what is sure to be a great series.  Tavia is hiding-out with her aunt and uncle after being the only survivor of plane crash.  She lost both of her parents and is now just trying to piece her life back together.  On the plus side, she met a cute boy at the library who seems to be the only one pulling her out of her haze of grief and recovery.  Things are starting to go back to normal – whatever that is – until Tavia starting seeing a mystery boy who is dressed in clothes dating back to the 1800?s.  However all of this is only the beginning of "strange new occurrences" for Tavia and before long she and Benson, her library boy, are fleeing from her aunt and uncle.
I am so excited for this new series.  Pike has  a very lush and dynamic language that made it very easy to escape into her story, specifically when describing the cold.   I felt like I was walking outside in the bitter colds of the arctic.  Her characters are engaging and believable.  I really like Tavia.  She is an amazingly well developed character and I found her to have a unique voice that immediately pulls you into the story.  I also liked that she isn't a petty shallow character, but is a girl who is already thinking for herself before the crisis happens.  Although surviving a plane crash does seem like it would make you more grown-up than simply going to school and learning that you have a cool supernatural ability. Needless to say, I am eagerly awaiting book two.
— Jody
Description
---
#1"New York Times"bestselling author Aprilynne Pike has created a heart-stopping romance built on a love triangle like you ve never seen before and filled with epic stakes and a centuries-long conspiracy. Give it to fans of "Beautiful Creatures "and"Nightshade."
Tavia Michaels is the sole survivor of the plane crash that killed her parents. When she starts to see strange visions of a boy she's never spoken with in real life, she begins to suspect that there's much about her past that she isn t being told.

Tavia immediately searches for answers, desperate to determine why she feels so drawn to a boy she hardly knows. But when Tavia discovers that the aunt and uncle who took her in after her parents' death may have actually been responsible for the plane crash that killed them--"and that she may have been the true intended victim"--she flees for the safety of Camden, Maine, where the boy she sees in her visions instructs her to go.
Now, Tavia is on the run with no one to trust. "No one, that is, except for her best friend and longtime crush, Benson."
Tavia feels torn between the boy who mysteriously comes to her at night and the boy who has been by her side every step of the way. But what Tavia doesn't know is that "the world is literally falling apart "and that to save it she will have to unite with the boy in her visions. Only problem? To do so would mean rejecting Benson's love. And that's the one thing Tavia Michaels swore she'd never do.
About the Author
---
Aprilynne Pike (www.aprilynnepike.com) is the #1 "New York Times" bestselling author of the Wings series. She has been spinning stories since she was a child with a hyperactive imagination. When not writing, Aprilynne can usually be found out running; she also enjoys singing, acting, and (of course!) reading books about magic and kissing. Aprilynne lives in Arizona with her husband and four kids.
Praise For…
---
Praise for Earthbound:

"[A] riveting page-turner.... With carefully crafted characters and plot, readers will be unable to sort the good guys from the bad. Sure to satisfy romantics, mystery fans, fantasy aficionados, and thrill seekers alike." –Booklist

"Pike's . . . solid writing, particularly in her descriptions, will have readers hooked. Tavia's low-tech revelation via ChapStick works better than any superbattle to convey what's at stake in her life and choices." --Publisher's Weekly

"It's usually a good sign when I read the first 30 pages of a book one day and devour the following 300 pages the next. Such was the case with Earthbound, Aprilynne Pike's superb new young adult novel. It's a complicated, intoxicating, and surprising ride that I literally couldn't put down until I read it all." --Christian Science Monitor

"[A] promising start to a new series that offers history, romance, and action." --Kirkus Reviews

"The premise of Earthbound is enough to give even the most jaded of readers the shivers." --Romantic Times

"Readers of supernatural romance will be clamoring for this one." --SLJ

Praise for Aprilynne Pike's WINGS series:

"Wings is a remarkable debut; the ingenuity of the mythology is matched only by the startling loveliness with which the story unfolds." --Stephenie Meyer, bestselling author of the TWILIGHT Saga

"Aprilynne Pike's talent just continues to bloom and I am almost afraid to see how awesome her next book will be." --Carrie Jones, bestselling author of Need and Captivate

". . . fascinating, rich, and romantic, and weaves a great new tapestry of thrilling fantasy." --Lisa McMann, bestselling author of the WAKE trilogy

"The greatest part: the WINGS series reaches the perfect ending. The worst part: it has to end!" --Claudia Gray, New York Times bestselling author of the EVERNIGHT series

"Mixing a little bit of Harry Potter and a lot of Twilight, Pike has hit on a winning combination. Yet it is her own graceful take on life inside Avalon that adds a shimmering patina sure to enthrall readers." --Booklist (starred review) 

"Silky narration, delicious escapism." --Kirkus Reviews 

"Pike's clever and innovative way of reinventing fairy tales and myths to make them her own is wonderful...[The] story is rich in vivid details, action, adventure, and romance." --Romantic Times (Top Pick) 

"The series is action-packed, and the final chapters of the story are no exception. A thrilling page-turner, many readers will read the book cover-to-cover, barely daring to breath." --VOYA (Starred Review)