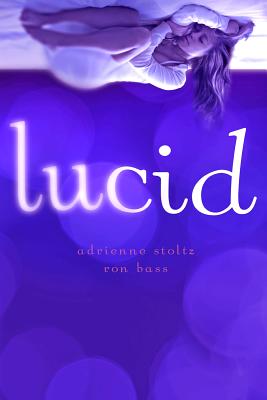 Staff Reviews
---
Adrienne Stoltz and Ron Bass's debut novel Lucid is a riveting tale of two girls who dream of each other's lives.  Sloane is from a small town and is living a very traditional teenage life, with the exception that her best friend passed away a year ago.  Her family is very close, even though she doesn't getting along with her mother.  Maggie, on the other hand, is a working teenage actress living in New York City.  Her mom tends to be too busy with work  to focus on her daughters, so Maggie is often left to raise herself and her little sister.  Each night the girls dream about the other girl's life, down to the very last detail of their day.  Neither have felt that this is a problem, in fact they rather like their dream relationship.  However, they are starting to question what is real or if there is another explanation for their detailed dreams.
What an amazing read.  The end of the story was incredibly  gripping as the girls start to question their reality.  The sweet teen love story quickly turned into a psychological tale that leaves everyone wondering which reality is the true reality.  The characters  were fantastic.  I loved that Sloane and Maggie were so different from each other.  It was fun to read about their  lives and to get attached to them both.  Stoltz and Bass did a great job of showing how the girls' outlook on their dreaming took on different meanings  as they started to grow-up and prepare for the next chapter in their lives.  Lucid is such a fresh new story that it instantly became a staff pick.
— Jody
Description
---
What if you could dream your way into a different life? What if you could choose to live that life forever?

Sloane and Maggie have never met. Sloane is a straight-A student with a big and loving family. Maggie lives a glamorously independent life as an up-and-coming actress in New York. The two girls couldn't be more different--except for one thing. They share a secret that they can't tell a soul. At night, they dream that they're each other.

The deeper they're pulled into the promise of their own lives, the more their worlds begin to blur dangerously together. Before long, Sloane and Maggie can no longer tell which life is real and which is just a dream. They realize that eventually they will have to choose one life to wake up to, or risk spiraling into insanity. But that means giving up one world, one love, and one self, forever.

This is a dazzling debut that will steal readers' hearts.
About the Author
---
Ron Bass is the Academy Award-winning screenwriter of "Rain Man," "My Best Friend's Wedding," and "The Joy Luck Club," among many others. He has collaborated on screenplays with Adrienne Stoltz for the past ten years. This is their first novel.