Thirteen Reasons Why (Paperback)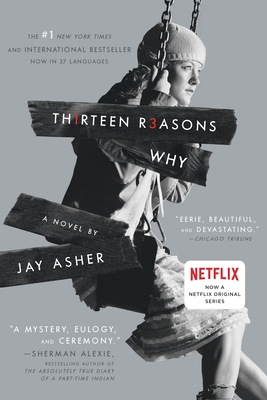 $10.99
Usually Ships in 1-5 Days
Staff Reviews
---
Thirteen Reasons Why by Jay Asher is an incredible teen read. Clay receives a package of 7 cassette tapes with 13 sides recorded. The package has no return address, but once Clay begins listening to the cassettes he realizes that the person speaking is Hannah, the girl who committed suicide two weeks ago. She goes on to tell her listeners that if they received the cassette tapes, then in some way they were partially responsible for her killing herself. Naturally, Clay believes it was a mistake that he received the package, but he keeps listening to all of the tales of the other 12 people involved to find out if he did do something to hurt Hannah. This is one of the best teen reads I have read this year. It is a haunting tale with such unique voices that will instantly capture your attention and hold it till the last page. As you read the story, you can relate to Clay who both wants to continue listening to the cassette tapes, but is growing more afraid to find out about the "crimes" of his classmates.
Asher does such a great job of showing Hannah's perception of events that to some extend you find yourself understanding why she is so depressed (however, you also find yourself wishing she would have found help from someone); he did such a great job of giving Hannah her voice and making her real. I was amazed at how interesting this book turned out to be since it was based on a single night of listening to cassette, but Asher did a fabulous job and I would highly recommend this book.
— Jody
Description
---
THE #1 NEW YORK TIMES AND INTERNATIONAL BESTSELLER

**THE BOOK THAT STARTED IT ALL, NOW A NETFLIX ORIGINAL SERIES**

"Eerie, beautiful, and devastating." —Chicago Tribune

"A stealthy hit with staying power. . . . thriller-like pacing." —The New York Times

"Thirteen Reasons Why will leave you with chills long after you have finished reading." —Amber Gibson, NPR's "All Things Considered"

You can't stop the future. 
You can't rewind the past.
The only way to learn the secret . . . is to press play.

Clay Jensen returns home from school to find a strange package with his name on it lying on his porch. Inside he discovers several cassette tapes recorded by Hannah Baker—his classmate and crush—who committed suicide two weeks earlier. Hannah's voice tells him that there are thirteen reasons why she decided to end her life. Clay is one of them. If he listens, he'll find out why.
               
Clay spends the night crisscrossing his town with Hannah as his guide. He becomes a firsthand witness to Hannah's pain, and as he follows Hannah's recorded words throughout his town, what he discovers changes his life forever.

Need to talk? Call 1-800-273-TALK (8255) anytime if you are in the United States. It's free and confidential.

Find more resources at 13reasonswhy.info.
 
Find out how you can help someone in crisis at bethe1to.com.
About the Author
---
JAY ASHER's debut novel, Thirteen Reasons Why, a #1 New York Times and international bestseller, has sold over 3 million copies in the United States alone and is now a thirteen-part series on Netflix. The Future of Us, his second novel, was co-authored with Printz Honor winner Carolyn Mackler. He is also the author of the New York Times bestselling What Light. Piper, out in Fall 2017 and co-authored with Jessica Freeburg and illustrated by Jeff Stokely, will mark Asher's graphic novel debut. His novels have been translated into thirty-seven languages. He lives with his family in California. Follow him on Twitter @jayasherguy.
Praise For…
---
"Heavy but compelling. . . . Asher's novel asks us to look at how petty cruelty can deal crushing blows." —Miami Herald

"Wonderfully realistic in his writing, Asher offers teens and parents alike a great story on an important topic." —Green Bay Press-Gazette

"It is a brilliant debut that will leave readers feeling a sense of remorse for Hannah, guilt for Clay, and hope for the lasting lesson of the story." —Bookazine

"Breakneck pace and dizzying emotion." —School Library Journal

"[Hannah's] pain is gut-wrenchingly palpable. . . . Asher has created an entrancing character study and a riveting look into the psyche of someone who would make this unfortunate choice. A brilliant and mesmerizing debut from a gifted new author." —Kirkus Reviews, starred review and Editor's Choice

"Readers won't be able to pull themselves away." —Publishers Weekly

"Asher's ability to convey the anguish of someone who was left behind is truly remarkable." —Book Page


WINNER OF
Association of Booksellers for Children's "Best Books"
American Library Association's "Best Books for Young Adults" and "Quick Picks for Reluctant Young Adult Readers"
Heartland Award for Excellence in Young Adult Literature
Florida Teens Read Award
California Book Award
Kentucky Bluegrass Award
Book Sense Pick
International Reading Association's "Young Adults' Choices" Finalist
Chicago Public Library's "Best of the Best Books"
Kansas State Reading Circle's "Recommended Reading List"
New York Public Library's "Book for the Teen Age"
16 State Award Master Lists
 

"Thirteen Reasons Why is a mystery, eulogy, and ceremony. Twenty or thirty times, I snapped the book shut when a sentence, an image, or a line of dialogue was too beautiful and painful. But I, afraid and curious, would always return to this amazing book. I know, in years to come, I will often return to this book." —Sherman Alexie, bestselling author of The Absolutely True Diary of a Part-Time Indian

"Every once in a while you come across a book that you can't get out of your mind, one you have to rush back to if you must put it down for some reason. Jay Asher's Thirteen Reasons Why is one of those books, and is at the very top of my personal Must-Read list." —Ellen Hopkins, bestselling author of Tricks, Identical, Crank, Burned, Impulse, and Glass

"A spectacular first novel. Jay Asher tells his story with such honesty and simplicity that the tragedy feels shatteringly real." —Gordon Korman, author of Son of the Mob and Jake, Reinvented