The Girls of Atomic City: The Untold Story of the Women Who Helped Win World War II (MP3 CD)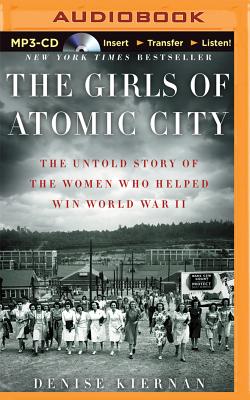 $16.49
Special Order - Subject to Availability
Staff Reviews
---
The Girls of Atomic City: The Untold Story of the Women Who Helped Win World War II  by Denise Kiernan was a refreshing read about the many women who helped win World War II.   More than 75,000 people  flocked to Oak Ridge Tennessee to work on the secret project to help end the war.  Surprisingly most of the people that moved to Oak Ridge were young women fresh out of school and from small towns.  It was these women who helped change the world forever.
I loved this book and was completely enthralled.   My favorite part of the book was reading about the female physicists who escaped Nazi Germany and how they helped develop fusion.  Although, it was frustrating to learn they were never credited for their contribution.   I found it fascinating to read about the building of Oak Ridge.  This town was designed for one purpose, to build the atomic bomb, but the amount of work that went into creating the buildings and the labs was extraordinary.  Not only did they have to supply buildings for the project, but they had to create enough housing for the massive amount of workers. They were doing all of this while the war was raging on.  The military was used to setting up camps, but the women were ready to set up a community.  How they created this town was remarkable and really worth reading about.  I would recommend this book to everyone.
— Tricia
Description
---
At the height of World War II, Oak Ridge, Tennessee, was home to 75,000 residents, consuming more electricity than New York City. But to most of the world, the town did not exist. Thousands of civilians--many of them young women from small towns across the South--were recruited to this secret city, enticed by solid wages and the promise of war-ending work. Kept very much in the dark, few would ever guess the true nature of the tasks they performed each day in the hulking factories in the middle of the Appalachian Mountains. That is, until the end of the war--when Oak Ridge's secret was revealed.
Drawing on the voices of the women who lived it--women who are now in their eighties and nineties--The Girls of Atomic City rescues a remarkable, forgotten chapter of American history from obscurity. Denise Kiernan captures the spirit of the times through these women: their pluck, their desire to contribute, and their enduring courage. Combining the grand-scale human drama of The Worst Hard Time with the intimate biography and often troubling science of The Immortal Life of Henrietta Lacks, The Girls of Atomic City is a lasting and important addition to our country's history.