The Drafter (Hardcover)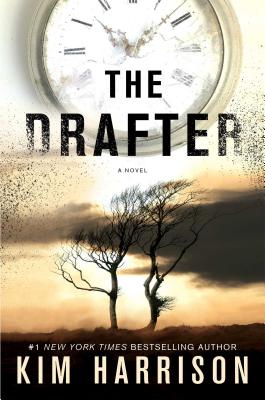 Staff Reviews
---
Kim Harrison's latest novel The Drafter while being very different from her Hollows series still has her crazy suspenseful action and a fearless heroine who is ready to kick butt. Peri has the rare gift of being a drafter, someone who has the ability to change the existing timeline and create a new timeline. The only problem is that she doesn't remember the original timeline or what changes she makes. In fact, she often loses more than just a few minutes of her memory. Thankfully, she has the help of her anchor Jack. He sees all of the changes she makes during a draft and can remind her of things in the past, as well as both the original and changed timeline. But what happens when you can no longer trust your anchor, the company you work for, or your own faulty memories? Thus begins the first book in the Peri Reed Chronicles.
I loved Harrison's Hollow series and was worried that her science fiction detour wouldn't have the same flare, but I was completely wrong. Peri is just as fierce as Rachel and is more than happy to take down a bad guy. I found the premise of this book to be quite interesting: time traveling with a terrible side effect of memory loss, how can you not want to read that? Often we (the reader) were just as confused as Peri. She is constantly questioning who to trust and trying to wade through all of the half truths she is told. Harrison does such a great job of developing her characters. I am really excited to see how the dynamics between everyone grows and changes in this series. Needless to say any Harrison fan or time traveling fan will enjoy her new novel.
— Jody
Description
---
In the first explosive book in the Peri Reed Chronicles, Kim Harrison, #1 New York Times bestselling author of the Hollows series, blazes a new frontier with an edge-of-your-seat thriller that will keep you guessing until the very end. Detroit 2030. Double-crossed by the person she loved and betrayed by the covert government organization that trained her to use her body as a weapon, Peri Reed is a renegade on the run. Don't forgive and never forget has always been Peri's creed. But her day job makes it difficult: she is a drafter, possessed of a rare, invaluable skill for altering time, yet destined to forget both the history she changed and the history she rewrote. When Peri discovers her name is on a list of corrupt operatives, she realizes that her own life has been manipulated by the agency. Her memory of the previous three years erased, she joins forces with a mysterious rogue soldier in a deadly race to piece together the truth about her fateful final task. Her motto has always been only to kill those who kill her first. But with nothing but intuition to guide her, will she have to break her own rule to survive?