Raging Heat (Nikki Heat) (CD-Audio)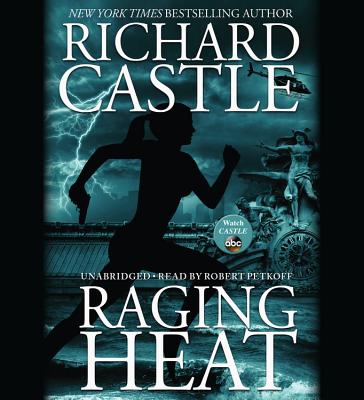 $33.00
Usually Ships in 1-5 Days
Other Books in Series
This is book number 6 in the Nikki Heat series.
Description
---

In New York Times Bestselling author Richard Castle's newest novel, an illegal immigrant falls from the sky and NYPD Homicide Detective Nikki Heat's investigation into his death quickly captures the imagination of her boyfriend the Pulitzer Prize-winning journalist, Jameson Rook. When he decides to work the case with Heat as his next big story, Nikki is at first happy to have him ride along. Yes, she must endure Rook's usual wild conspiracy speculations and adolescent wisecracks, but after reuniting following his recent assignment abroad, she's glad for the entertainment, the chance to bounce ideas, and just to be close to him again and feel the old spark rekindle. But when Rook's inquiry concludes that Detective Heat has arrested the wrong man for the murder, everything changes.

Balancing her high stakes job with a complicated romance has been a challenge ever since Nikki fell for the famous reporter. Now, her relationship lurches from mere complexity into sharp conflict over the most high-risk case of her career. Set against the raging force of Hurricane Sandy as it pounds New York, Heat battles an ambitious powerbroker, fights a platoon of urban mercenaries, and clashes with the man she loves. Detective Heat knows her job is to solve murders. She just worries that solving this one will be the death of her relationship.

About the Author
---
RICHARD CASTLE is the author of numerous bestsellers, including Heat Wave, Naked Heat, Heat Rises, and the Derrick Storm eBook original trilogy. His first novel, In a Hail of Bullets, published while he was still in college, received the Nom DePlume Society's prestigious Tom Straw Award for Mystery Literature. Castle currently lives in Manhattan with his daughter and mother, both of whom infuse his life with humor and inspiration.