Faceoff (Mass Market Paperbound)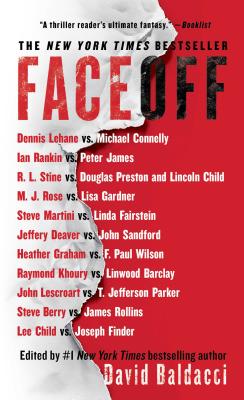 Staff Reviews
---
Faceoff is a compilation of short stories edited by David Baldacci. This book is great because each short story has two characters who are often the heroes from their own series who faceoff (or work together to take down the bad guy). Short stories are so much fun when it is a new story with a beloved character or a great story from a new author. I loved how riddled this book is with some of my favorite mystery authors.
Here is a brief look at a few of my favorites:
When Jack Reacher walks into a bar in Boston to watch the Yankees take on the Red Sox, I knew something fun was going to happen. Nick Heller was sitting two stools away and within a couple of innings they had figured out the man sitting between them was trouble. I loved seeing how each of the characters sizes up the situation and helps in their unique way!
(Lee Child & Joseph Finder)
I thoroughly enjoyed Cotton Malone meeting Gray Pierce in the South American jungle while they were each on the same assignment. Working together the two take care of business and in just a few pages are on their way. It amazed me that the authors can create such a seamless story together and still stay true to their own characters and writing style.
(Steve Berry & James Rollins)
And on the creepy side was R. L. Stine's Slappy the Ventriloquist Dummy against Preston/Child's Agent Pendergast in a gaslight story of the weirdest kind. There is something for every mystery fan in this book.
— Tricia
Description
---
A New York Times and USA TODAY bestseller Edited by #1 New York Times bestselling author David Baldacci and including stories by Michael Connelly, Lee Child, Jeffery Deaver, and more, this one-of-a-kind anthology pulls together the most beloved characters from the best and most popular thriller series today. Worlds collide In an unprecedented collaboration, twenty-three of the world's bestselling and critically acclaimed thriller writers have paired their series characters--such as Harry Bosch, Jack Reacher, and Lincoln Rhyme--in an eleven-story anthology curated by the International Thriller Writers (ITW). All of the contributors to FaceOff are ITW members and the stories feature these dynamic duos: - Patrick Kenzie vs. Harry Bosch in "Red Eye," by Dennis Lehane and Michael Connelly
- John Rebus vs. Roy Grace in "In the Nick of Time," by Ian Rankin and Peter James
- Slappy the Ventriloquist Dummy vs. Aloysius Pendergast in "Gaslighted," by R.L. Stine, Douglas Preston, and Lincoln Child
- Malachai Samuels vs. D.D. Warren in "The Laughing Buddha," by M.J. Rose and Lisa Gardner
- Paul Madriani vs. Alexandra Cooper in "Surfing the Panther," by Steve Martini and Linda Fairstein
- Lincoln Rhyme vs. Lucas Davenport in "Rhymes With Prey," by Jeffery Deaver and John Sandford
- Michael Quinn vs. Repairman Jack in "Infernal Night," by Heather Graham and F. Paul Wilson
- Sean Reilly vs. Glen Garber in "Pit Stop," by Raymond Khoury and Linwood Barclay
- Wyatt Hunt vs. Joe Trona in "Silent Hunt," by John Lescroart and T. Jefferson Parker
- Cotton Malone vs. Gray Pierce in "The Devil's Bones," by Steve Berry and James Rollins
- Jack Reacher vs. Nick Heller in "Good and Valuable Consideration," by Lee Child and Joseph Finder So sit back and prepare for a rollicking ride as your favorite characters go head-to-head with some worthy opponents in FaceOff--it's a thrill-a-minute read.
About the Author
---
Introduction by #1 New York Times bestselling author David Baldacci and stories by Lee Child, Michael Connelly, John Sandford, Lisa Gardner, Dennis Lehane, Steve Berry, Jeffery Deaver, Douglas Preston and Lincoln Child, James Rollins, Joseph Finder, Steve Martini, Heather Graham, Ian Rankin, Linda Fairstein, M.J. Rose, R.L. Stine, Raymond Khoury, Linwood Barclay, John Lescroart, T. Jefferson Parker, F. Paul Wilson, and Peter James.