Palace of Treason: A Novel (The Red Sparrow Trilogy #2) (Hardcover)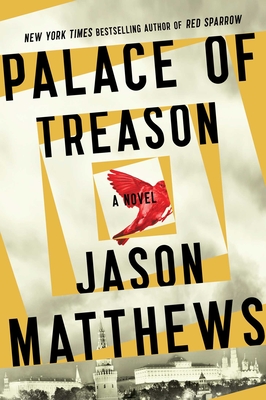 $28.00
Usually Ships in 1-5 Days
June 2015 Indie Next List
---
"Matthews' debut, Red Sparrow, was only the first 'date' for Russian agent Dominika Egorova and the CIA's Nate Nash. Now, in Palace of Treason, the spies and lovers find themselves on opposite sides of an even more dangerous game. Tight, authentic tradecraft was the hallmark of Matthews' former career in the CIA and it shows in this twisty race to unravel moles in both America and in Putin's Russia. Dominika is getting closer to Putin himself - close enough to catch his eye! - while Nate races to stop a man hell-bent on revenge on everyone. Spy versus spy, sex, trained assassins - here is everything you want in a summer read!-"
— Geoffrey Jennings, Rainy Day Books, Fairway, KS
Description
---
Red Sparrow is now a major motion picture starring Jennifer Lawrence and Joel Edgerton!

From the bestselling, Edgar Award–winning author of the "terrifically good" (The New York Times) Red Sparrow, a compulsively readable new novel about star-crossed Russian agent Dominika Egorova and CIA's Nate Nash in a desperate race to the finish.

Captain Dominika Egorova of the Russian Intelligence Service (SVR) has returned from the West to Moscow. She despises the men she serves, the oligarchs, and crooks, and thugs of Putin's Russia. What no one knows is that Dominika is working for the CIA as Washington's most sensitive penetration of SVR and the Kremlin.

As she expertly dodges exposure, Dominika deals with a murderously psychotic boss; survives an Iranian assassination attempt; escapes a counterintelligence ambush; rescues an arrested agent and exfiltrates him out of Russia; and has a chilling midnight conversation in her nightgown with President Putin. Complicating these risks is the fact that Dominika is in love with her CIA handler, Nate Nash, and their lust is as dangerous as committing espionage in Moscow. And when a mole in the SVR finds Dominika's name on a restricted list of sources, it is a virtual death sentence…

Just as fast-paced, heart-pounding, and action-packed as Red Sparrow, Jason Matthews's second novel confirms he is "an insider's insider…and a masterful storyteller" (Vince Flynn, #1 New York Times bestselling author).
About the Author
---
Jason Matthews is a retired officer of the CIA's Operations Directorate. Over a thirty-three-year career he served in multiple overseas locations and engaged in clandestine collection of national security intelli­gence, specializing in denied-area operations. Matthews conducted recruitment operations against Soviet–East European, East Asian, Middle Eastern, and Caribbean targets. As Chief in various CIA Stations, he collaborated with foreign partners in counterproliferation and counterterrorism operations. He is the author of Red Sparrow, Palace of Treason, and The Kremlin's Candidate. He lives in Southern California.
Praise For…
---
"Red Sparrow, Jason Matthews's debut thriller, is a challenging act to follow. Palace of Treason, the sequel to Red Sparrow, does not disappoint. The book is enthralling. Matthews deftly weaves in enough back story to hook both new readers and those returning. Palace of Treason shimmers with authenticity. The villains are richly drawn...the scenes of them on the job are beyond chilling. Whether in Vienna, Moscow, or Washington, Matthews's scene-setting is superb, and he has a fine eye for telling details."

"On a scale of one to five stars, Palace of Treason is a six. With Palace of Treason, Jason Matthews has resurrected the spy novel from the doldrums of silly car chases, martinis shaken not stirred, and dubious tradecraft to reflect the deadly serious stakes of the new Cold War."

"Like the first novel, [Palace of Treason] is as suspenseful and cinematic as the best spy movies around. Matthews knows his tradecraft, and he knows his writing craft, too."

"[Palace of Treason] is every bit as good as his debut [Red Sparrow]. Authentic tradecraft, a complex plot that steadily builds tension, and credible heroes and villains on both sides make this a standout."

"Matthews'characters are intensely sympathetic or stupendously vile; and the writing is entrancing in its exactitude and dark fluidity. With escalating dramatizations of intelligence work noble, nefarious, and absurd; horrifying scenes of intimate violence; interludes of perilous lust; and unnervingly prescient,headline-matching incidents, Matthews' latest is an extraordinarily commanding,acidly relevant, and unrelentingly suspenseful tale of espionage, brutality,and conscience."

"Matthews' vast experience working in the shadowy world of espionage and spycraft lends an authenticity to his story that few can equal.And it doesn't hurt that he can write. While Ian Fleming's work had a bit of a campy feel to it, Matthews doesn't take that approach; his spies are grittier and more human, more like those of John le Carré, and his knowledge of the inner workings of that world adds authenticity that other current writers simply can't approach…This is another must-read for fans of the spy genre."

"You'll never see Vladimir Putin in the same light after reading this chilling portrait. Matthews's characters seem to leap out of the page; his firsthand familiarity with the toys and routines of the spy world is a definite plus. VERDICT: Seldom is a sequel as stunning as the original, but this one absolutely triumphs."

"Jason Matthews has an amazing feel for the insider lingo and relentless intrigue of the spy's life. Palace of Treason is a harrowing look into the lives of spies...This is stay-up-all-night reading, and we're pummeled by hair-trigger actions on every page."

"His real life experiences in the shadowy world of spying make the story fresh, timely and nearly authentic...a sophisticated, behind-the -scenes, powerful story...well-written, creative."

"The world of a spy is unique and claustrophobic, but this bold tale captures its every nuance with expert precision. A tantalizing premise, and a heroine who's an alpha female, forge a solid piece of entertainment that does not disappoint."
— Steve Berry, New York Times bestselling author of The Patriot Threat

"You too may also conclude that Red Sparrow is the best espionage novel you've ever read."
— Keith Thomson

"Sublime and sophisticated debut… Red Sparrow isn't just a fast-paced thriller — it's a first-rate novel as noteworthy for its superior style as for its gripping depiction of a secretive world."
— Art Taylor

"A primer in 21st-century spying... terrifically good."

"A smart, intriguing tale...Fans of John Le Carre and Ian Fleming will happily embrace Matthews' central spy."