One Kick: A Novel (Hardcover)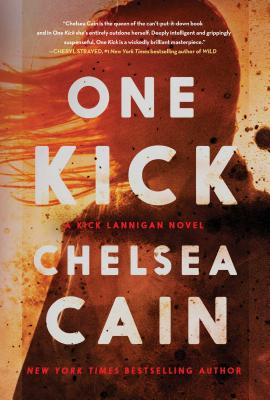 September 2014 Indie Next List
---
"Cain's newest is a gut-wrenching tale of crimes against children and of an unlikely hero, a victim-turned-survivor. Kathleen 'Kick' Lannigan was kidnapped at age six, and spent almost six years with a child pornographer who forced her to become a child porn film star. Now 21, she is damaged yet self-reliant, trained in self-preservation and security techniques. Kick is approached by a mysterious stranger who is determined to use her to help him find two kidnapped children. What follows is a story of how the past both helps and hurts us, the blurred lines of justice, and ultimate resilience in the face of evil."
— Marquietta Buffaloe, Books & Books at Bal Harbour Shops, Bal Harbour, FL
Description
---
Meet Kick Lannigan. She's twenty-one. She can pick any lock. She knows five ways to kill you with a jacket. Get ready to fall in love.

From the author of the critically acclaimed New York Times bestselling Archie Sheridan/Gretchen Lowell thrillers: The first in a nail-biting new series featuring Kick Lannigan, a young woman whose complicated past has given her a very special skill set.

Famously kidnapped at age six, Kick captured America's hearts when she was rescued five years later. Now, twenty-one, she finds herself unexpectedly entangled in a missing child case that will put her talents to the test.

Trained as a marksman, lock picker, escape artist and bomb maker by her abductor, Kick could not return to the life of the average young girl after her release. So, in lieu of therapy, she mastered martial arts, boxing, and knife throwing; learned how to escape from the trunk of a car, jimmy a pair of handcuffs, and walk without making a sound—all before she was thirteen.

Kick has trained herself to be safe. But then two children go missing in three weeks, and an enigmatic and wealthy former weapons dealer approaches her with a proposition. John Bishop uses his fortune and contacts to track down missing children. Not only is he convinced Kick can help recover the two children—he won't take no for an answer.

With lives hanging in the balance, Kick is set to be the crusader she has always imagined herself. Little does she know that the answers she and Bishop seek are hidden in one of the few places she doesn't want to navigate—the dark corners of her own mind.

A heart-stopping, entertaining thrill ride, One Kick announces the arrival of a blistering new series by a stunning talent in the thriller realm.
About the Author
---
Chelsea Cain is the author of the New York Times bestselling Archie Sheridan/Gretchen Lowell thrillers Heartsick, Sweetheart, Evil at Heart, The Night Season, Kill You Twice, and Let Me Go. Her Portland-based thrillers have been published in twenty-four languages, recommended on the Today show, appeared in episodes of HBO's True Blood and ABC's Castle, and included in NPR's list of the top 100 thrillers ever written. According to Booklist, "Popular entertainment just doesn't get much better than this." Visit her online at ChelseaCain.com.
Praise For…
---
"Chelsea Cain has staked her claim to new territory with One Kick which heralds an exciting new series. Fresh, original, engaging and tension-filled, this is a perfect introduction to Kick Lannigan, whose quest for justice you'll champion."

– Sue Grafton, #1 New York Times bestselling author of W is for Wasted

"Author Cain has done it again. One Kick is superb! From its breathtaking opening sequence, through scenes of wrenching evil and heart-clutching emotion to its roller coaster finale, this novel will stay with you for a long time. And what a heroine . . . Here's hoping for more Kick Lannigan soon!" —Jeffery Deaver, author of The Skin Collector

"This is an edge-of-the-chair thriller, and Cain negotiates the twists and turns with finesse while keeping her foot firmly on the gas pedal. Excruciating yet always compelling."
—Booklist, starred review

"Chelsea Cain's One Kick has all the bones of a great thriller—a high-octane story that will never let you catch your breath, non-stop action, and twists galore. But it's Kick Lannigan that really gives this stellar read its heart and soul. Kick is a total badass, armed and dangerous. But you'll cheer for her, worry about her—and you'll pray that, if you ever meet anyone like her, she'll be on your side. Chelsea Cain has outdone herself -- and that's no small feat."—Lisa Unger, New York Times bestselling author of In the Blood

"Prepare to read One Kick with your heart in your throat. Chelsea Cain has created a world that's both utterly exhilarating and emotionally rich. With Kick Lannigan as our protagonist—resilient yet broken, conflicted yet righteous—we find ourselves willing to go anywhere, even to the darkest places, knowing she'll protect us, surprise us, move us." —Megan Abbott, author of Fever and Dare Me

"Kick Lannigan is my kind of heroine, brave and honorable, with a big gun and a sharp tongue. Chelsea Cain is at the top of her game here with crisp prose, rich characters, and breakneck pacing. Read the first chapter, and you'll be hooked." —Alafair Burke, author of All Day and a Night and If You Were Here

"In her Heartsick series Cain might cut your heart out. With One Kick she breaks it. If you're not crying by page 188 and terrified by page 290, you're not reading the right book." —Chuck Palahniuk, New York Times bestselling author of Fight Club

"Avenging angel Kick Lannigan is a compelling, original heroine who takes readers on a hair-raising quest for justice and redemption. Alternately terrifying and moving, this blistering thriller kept me riveted right up to its powerful conclusion."—Diana Abu-Jaber, author of Birds of Paradise and Origin

"Chelsea Cain is the queen of the can't-put-it down-book and in One Kick she's entirely outdone herself. Deeply intelligent and grippingly suspenseful, One Kick is a wickedly brilliant masterpiece by a thrillingly talented master of the form."
—Cheryl Strayed, #1 New York Times bestselling author of Wild

"Chelsea Cain has done it again! One Kick is a fast & furious thrill ride full of new exciting characters and major twists & turns. A must read!"
—Jackie Collins, New York Times bestselling author of Confessions of a Wild Child and Chances

"An unsettling, near-perfect effort by Cain that leaves you eagerly awaiting the next installment."
—Kirkus, starred review