Moving Target: A Novel (Ali Reynolds Series #9) (Hardcover)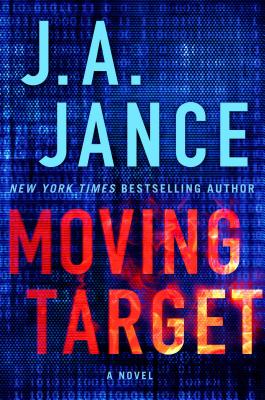 Other Books in Series
This is book number 9 in the Ali Reynolds Series series.
Staff Reviews
---
Moving Target by J. A. Jance is yet another great read in the Ali Reynolds' series.  Ali has her hands full helping her majordomo, Leland, make peace with his past in England; helping B. solve an 'accident' to a young boy that may not be such an accident AND getting ready for her wedding to B.  Murder, arson, car crashes, kidnapping and nefarious computer hacking are all in this fast-paced story.
Her characters are complicated and attempt to do the right thing, although it doesn't always work out at first.  Jance does such a great job of showing you new views of  technology including the Dark Net, things that I would never think about without her books.  If you haven't read Jance yet, pick one up today.   Her stories are always compelling and pull you right in to the thick of the the action.
— Tricia
Description
---
In this instant New York Times bestseller and high-stakes thriller Ali Reynolds spans continents to solve a cold case murder and to figure out who wants a young juvenile offender dead.

EVEN GHOSTS CAN'T HIDE FOREVER.

Lance Tucker, an incarcerated juvenile offender doing time for expertly hacking into the San Leandro School District's computer system, is set on fire and severely burned one night while hanging Christmas decorations in a lockup rec room. The police say that he did it to himself, but B. Simpson, Ali Reynolds's fiancé and the man who helped put Lance in jail, feels obligated to get to the bottom of what really happened.

Lance is famous in the hacker world for developing GHOST, computer software that allows users to surf any part of the web completely undetected. And that kind of digital camouflage is seductive to criminal minds who will stop at nothing to get their hands on this revolutionary—and dangerous—technology.

Meanwhile, in England, Ali investigates the decades-old murder of Leland Brooks's father, which Leland himself was once suspected of committing. With Ali otherwise occupied and Lance receiving cryptic threats in the hospital, B. turns to Sister Anselm—a Taser-carrying nun and Ali's close friend—for help protecting the boy. With unsolved crimes on both sides of the Atlantic, Ali, B., and Sister Anselm are united by their search for answers—though being thousands of miles away may not be far enough to keep Ali from being drawn into the deadly line of fire.

From the New York Times bestselling author hailed for her "inimitable, take-no-prisoners style" (Kirkus Reviews), Moving Target sends Ali on a transatlantic adventure and straight into the path of a ruthless killer.
About the Author
---
J.A. Jance is the New York Times bestselling author of the Ali Reynolds series, the J.P. Beaumont series, and the Joanna Brady series, as well as five interrelated Southwestern thrillers featuring the Walker family. Born in South Dakota and brought up in Bisbee, Arizona, Jance lives with her husband in Seattle, Washington, and Tucson, Arizona. Visit her online at JAJance.com.
Praise For…
---
"Jance skillfully avoids the predictable. . . . Her crisp plotting, sharp characters and realistic dialogue carry Moving Target through its many surprising twists."
— South Florida Sun Sentinel

"Lots of action, and the book is fast-paced and technology-savvy."
— Tuscon Weekly

"The story, on two continents, is complicated and interesting, but the best thing is the characters, rich and deep and believable."
— San Jose Mercury News

"Jance adroitly combines well-rounded characterizations and brisk storytelling with high-tech exploits, arson, kidnappings, and a shootout for an entertaining and suspenseful addition to this solid series."
— Booklist

"Jance delivers a devilish page-turner."
— People

"Heart-stopping . . . Jance deftly brings the desert, people, and towns of southeastern Arizona to life."
— Publishers Weekly

"An intriguing plot, colorful characters."
— San Diego Union-Tribune

"Characters so real you want to reach out and hug—or strangle—them. Her dialogue always rings true."
— Cleveland Plain-Dealer

"J.A. Jance is addictive because of moments that just rise up and make things so real you'll swear you are a part of the book. . . . Jance will charm you into reading everything by her you can find."
— Statesman Journal (Salem, Oregon)

"Prolific Jance . . . [carries] readers swiftly to an unexpected conclusion."
— Kirkus Reviews

"Fast pacing, multiple plotlines, a fascinating look at online research, and sympathetic characters all provide appeal in Jance's suspenseful story."
— Booklist

"Series fans will welcome the familiar supporting cast, including computer nerd Stuart Ramey and boyfriend B. Simpson."
— Publishers Weekly

"Engaging . . . Ali charms the locals into giving valuable if inadvertent clues."
— Publishers Weekly

"Entertaining on all counts."
— Booklist

"Loyal fans and newcomers alike will be glad to join feisty Ali in her latest adventure."
— Kirkus Reviews

"A truly thrilling case with red herrings, characters coming out of the woodwork, back stories that will make you gasp, and a conclusion that you will not see coming!"
— Suspense Magazine

"Jance starts her books fast . . . and keeps things moving with cinematic panache. . . . You want an accessible thriller? Jance is your gal . . . Engaging and entertaining."
— Los Angeles Times

"Compelling... satisfying." -- USA Today