Inside the O'Briens: A Novel (Hardcover)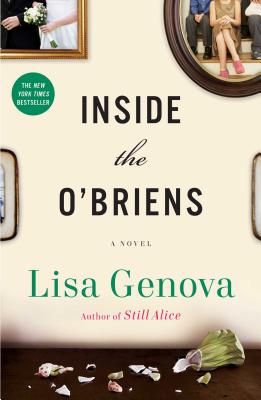 Email or call for price
Special Order - Subject to Availability
Staff Reviews
---
Lisa Genova's newest novel is Inside the O'Briens which focuses on Huntington's disease. Her book is elegantly written and captures the emotions and turmoil of the characters so well. Joe O'Brien has been a Boston Police Officer for years. He knows everyday that he leaves for work could be his last. His wife and children have always held their breath when they hear sirens. Joe thinks he has seen it all, but nothing can prepare him for the hardships that he has to face once he learns he has Huntington's disease.
I love Genova's writing style. She is excellent at humanizing and teaching about the illness. I always find it easy to connect to all of her characters and it was no different with this book. You really feel the struggle of the children not knowing if they should get tested for the disease or live in the unknown. You could feel the frustration that Joe goes through in order to deal with the disease. Yet, somehow Genova still finds hope and happiness. The book could have such a dark outlook but instead she shows many moments of joy. The entire Mostly Books staff has enjoyed Lisa Genova's books and are continually recommending them. If you haven't read one yet, start today with this one or Still Alice.
— Jody
April 2015 Indie Next List
---
"Haunted by Huntington's disease, the O'Brien family members watch as their patriarch slowly loses his physical abilities. Stripped of his policeman's badge, Joe struggles to find meaning in his life while his children wonder if they, too, will eventually succumb to the degenerative disease that has no cure. Should they get the blood test that will either give them relief or lead to fear and despair? What would you do? This is Genova at her best and a story that will provoke many discussions."
— Linda Bond (E), Auntie's Bookstore, Spokane, WA
Description
---
A New York Times bestseller ▪ A Library Journal Best Books of 2015 Pick ▪ A St. Louis Post-Dispatch Best Books of 2015 Pick ▪A GoodReads Top Ten Fiction Book of 2015 ▪ A People Magazine Great Read

From New York Times bestselling author and neuroscientist Lisa Genova comes a "heartbreaking…very human novel" (Matthew Thomas, author of We Are Not Ourselves) that does for Huntington's disease what her debut novel Still Alice did for Alzheimer's.

Joe O'Brien is a forty-three-year-old police officer from the Irish Catholic neighborhood of Charlestown, Massachusetts. A devoted husband, proud father of four children in their twenties, and respected officer, Joe begins experiencing bouts of disorganized thinking, uncharacteristic temper outbursts, and strange, involuntary movements. He initially attributes these episodes to the stress of his job, but as these symptoms worsen, he agrees to see a neurologist and is handed a diagnosis that will change his and his family's lives forever: Huntington's disease.

Huntington's is a lethal neurodegenerative disease with no treatment and no cure, and each of Joe's four children has a 50 percent chance of inheriting their father's disease. While watching her potential future in her father's escalating symptoms, twenty-one-year-old daughter Katie struggles with the questions this test imposes on her young adult life. As Joe's symptoms worsen and he's eventually stripped of his badge and more, Joe struggles to maintain hope and a sense of purpose, while Katie and her siblings must find the courage to either live a life "at risk" or learn their fate.

Praised for writing that "explores the resilience of the human spirit" (San Francisco Chronicle), Lisa Genova has once again delivered a novel as powerful and unforgettable as the human insights at its core.
About the Author
---
Acclaimed as the Oliver Sacks of fiction and the Michael Crichton of brain science, Lisa Genova is the New York Times bestselling author of Still Alice, Left Neglected, Love Anthony, and Inside the O'Briens. Still Alice was adapted into an Oscar-winning film starring Julianne Moore, Alec Baldwin, and Kristen Stewart. Lisa graduated valedictorian from Bates College with a degree in biopsychology and holds a PhD in neuroscience from Harvard University. She travels worldwide speaking about the neurological diseases she writes about and has appeared on The Dr. Oz Show, Today, PBS NewsHour, CNN, and NPR. Her TED talk, What You Can Do To Prevent Alzheimer's, has been viewed over 2 million times.

Praise For…
---
"This heartbreaking book tells the whole story of how a major illness affects a family. Genova's gift is to show that things do work out, in a sense. Her very human novel teaches us to keep living, to lean on each other and be there to be leaned on."
— Matthew Thomas, New York Times bestselling author of WE ARE NOT OURSELVES

"This novel of siblings rocked by their father's Huntington's disease is a total tearjerker, but ultimately it's a tribute to family love."
— Glamour

"An intimate, heartbreaking look at life with Huntington's disease."
— Marie Claire

"Genova...compassionately details how an illness—this time Huntington's disease—can destroy not only the afflicted, but those who love them as well."
— People Magazine

"An unsparing, heart-piercing portrait…compelling...enlightening."
— The Washington Post

"A moving drama."
— US Weekly

"A gut-wrenching and memorable read."
— Library Journal, Starred Review

"Compelling and masterful."
— NYJOURNALOFBOOKS.com

"Inside the O'Briens is...about resilience and hope."
— Bookreporter.com

"Genova's book will move readers as well as demystify a condition sometimes called 'the cruelest disease known to man.'"
— Publishers Weekly

"Sympathetic, absorbing, multifaceted characters compel the reader's compassion. While Genova's background in neuroscience allows her to portray medical issues accurately, the heart of the O'Briens' story is human....Poignant and painful, warm and redemptive, Inside the O'Briens displays Genova's established strengths in bringing neuroscience to the lay reader, and portraying the power of love."
— Shelf Awareness

"The family's resilience makes this a story about living, not dying."
— The Michigan Daily

"[Genova's] compassionate storytelling is full of human emotion, all the way from boiling rage to love and gratitude, to despair."
— The Vancouver Sun

"For a book that could be bleak and depressing, Genova turns it into a story that is strong and uplifting. The disease will continue its inexorable march, but the O'Briens' response tells much about character when faced with crisis."
— St. Louis Post-Dispatch

"Inside the O'Briens . . . promises to do for Huntington's disease, what Still Alice did for Alzheimer's."
— Huffington Post

"Lisa Genova's deep empathy for her characters shines through this poignant and uplifting story about family, grief and the resilience of the human spirit. Kudos to this amazing writer for showing us—once again—the transformative powers of even the most devastating events. Do not miss this fabulous novel."
— Barbara Shapiro, author of THE MURALIST and THE ART FORGER

"For the characters in a Lisa Genova novel, there is no way out, for genetic destiny has sealed their fate. And yet, for us as readers, there also is no way out, for we have no desire to look away. In his fear and courage, Joe O'Brien is an American hero. Huntington's disease will claim his life, but not his capacity to love. This is Genova's genius. A bold, skillful writer at the height of her narrative powers, she makes us long to hope for the hopeless and comfort the condemned. In their hard journeys, we find the small shining promise of every single ordinary day."
— Jacquelyn Mitchard, author THE DEEP END OF THE OCEAN and TWO IF BY SEA

"Lisa Genova's subtle, finely tuned prose gains momentum until you don't know whether to laugh, cry, or give thanks. Like all of her work, Inside the O'Briens is brimming with candor, pathos, and deeply human characters. I didn't want the book to end!"
— Vanessa Diffenbaugh, author of THE LANGUAGE OF FLOWERS and WE NEVER ASKED FOR WINGS