Gold: A Novel (Hardcover)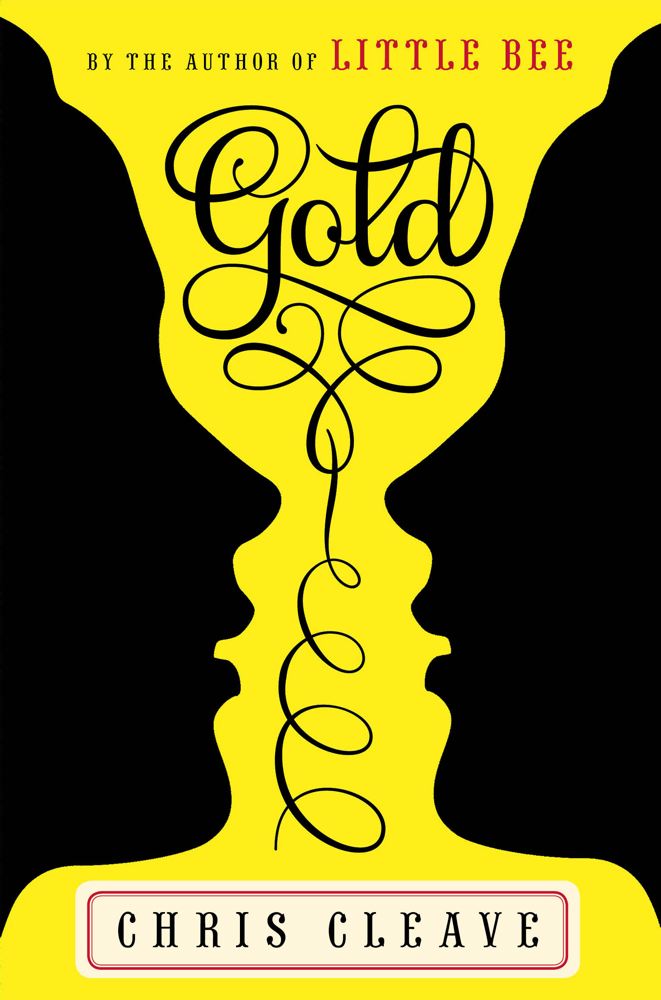 July 2012 Indie Next List
---
"Cleave is one of the luminaries of modern fiction and his talent shines just as brightly as the title of Gold. In a novel based on the world of competitive cycling, Cleave offers all of the trauma, dedication, and courage of that elite society, but more importantly, shows us those same attributes in the lives of his other characters, particularly eight-year-old Sophie, who suffers from leukemia. This is a novel that both inspires and informs, providing sadness and exhilaration in equal measure and showing empathy for the human condition. Gold is a reading experience not to be missed."
— Bill Cusumano, Nicola's Books, Ann Arbor, MI
Description
---
Building on the tradition of Little Bee, Chris Cleave again writes with elegance, humor, and passion about friendship, marriage, parenthood, tragedy, and redemption.

What would you sacrifice for the people you love?

KATE AND ZOE met at nineteen when they both made the cut for the national training program in track cycling—a sport that demands intense focus, blinding exertion, and unwavering commitment. They are built to exploit the barest physical and psychological edge over equally skilled rivals, all of whom are fighting for the last one tenth of a second that separates triumph from despair.

Now at thirty-two, the women are facing their last and biggest race: the 2012 Olympics. Each wants desperately to win gold, and each has more than a medal to lose.

Kate is the more naturally gifted, but the demands of her life have a tendency to slow her down. Her eight-year-old daughter Sophie dreams of the Death Star and of battling alongside the Rebels as evil white blood cells ravage her personal galaxy—she is fighting a recurrence of the leukemia that nearly killed her three years ago. Sophie doesn't want to stand in the way of her mum's Olympic dreams, but each day the dark forces of the universe seem to be massing against her.

Devoted and self-sacrificing Kate knows her daughter is fragile, but at the height of her last frenzied months of training, might she be blind to the most terrible prognosis?

Intense, aloof Zoe has always hovered on the periphery of real human companionship, and her compulsive need to win at any cost has more than once threatened her friendship with Kate—and her own sanity. Will she allow her obsession, and the advantage she has over a harried, anguished mother, to sever the bond they have shared for more than a decade?

Echoing the adrenaline-fueled rush of a race around the Velodrome track, Gold is a triumph of superbly paced, heart-in-throat storytelling. With great humanity and glorious prose, Chris Cleave examines the values that lie at the heart of our most intimate relationships, and the choices we make when lives are at stake and everything is on the line.
About the Author
---
Chris Cleave is the author of Everyone Brave is Forgiven, Gold, Incendiary, and the #1 New York Times bestseller Little Bee. He lives with his wife and three children in London, England. Visit him at ChrisCleave.com or on Twitter @ChrisCleave.
Praise For…
---
The #1 IndieNext Pick for July
*
An Instant New York Times bestseller
*
One of Marie Claire's "Favorite Reads"
*
A DailyBeast/Newsweek Book Club Pick
*
A Martha Stewart Living Book Club Pick
*
A USA Today Books Pick
"A heartstring-tugger with an adrenaline-fueled plot from the bestselling author of
Little Bee.
"
"Like the best-selling
Little Bee
, Cleave's new book,
Gold
, is highly emotionally charged . . . Cleave immersed himself in the world of track cycling and makes the most of his research in scenes of stunning athletic endurance, but it's the trials of the human spirit that are his real material in a novel meant to move you. And it does."—
New York Daily News
"If Olympic medals were awarded for dramatic stories about what drives athletes to compete and succeed, Cleave would easily ascend the podium.
Gold
does for sport racing what Jon Krakauer's
Into the Wild
did for high-risk adventure: It demystifies its allure, giving readers an inside track on a certain type of compulsive mindset. But
Gold
is also about time, ambition and love, three life forces continuously jockeying for supremacy. Novels, like racing, depend on careful pacing, and Cleave calibrates his performance with the skill of a real pro, carefully ratcheting up the intensity as he finesses curves and heads into his final laps. . . . Cleave spins a doozy of a plot, with enough drama and sentiment to sustain a soap opera. His characters are humanized by their struggle with their personal demons . . . . With
Gold
, Cleave unleashes megawatts of power in yet another triumphant dash toward literary success."
—NPR
"Cleave's great gift is his ability to write moving fiction that also provides original, contemporary insights. . . .
Gold
is a real winner of a novel."—
USA Today
"Cleave kick-starts his stories from the first breath and never takes his feet off the pedals." —
Washington Post
"Cleave again displays a remarkable aptitude for rendering female characters with startling realism, one of the strengths of his previous novels (particularly 2009's
Little Bee
). He conjures Sophie's traumatized yet resilient young mind as deftly as he does the complex interior narratives of high-strung Zoe and the more philosophical Kate. . . . In these breathless portrayals of sport and spirit,
Gold
illuminates the stories of courage, loss, and commitment that are behind each of the seemingly invincible Olympians we root for every four years."
—Elle
"Emotionally arresting (and exquisitely timed) . . . Cleave shines when he focuses on the cyclists' sacrifices, including training sessions in which they push themselves to the brink of blacking out . . . Cleave's fine novel will give you an appreciation for all that London's Olympians have gone through as you watch them contort their bodies, leap for the heavens or pedal round and round and round."
—Sports Illustrated
"Chris Cleave's latest novel lives and breathes, sweats and suffers at the harrowing place where ambition collides with sacrifice. That it arrives on the eve of the 2012 Olympic Games in London is perfect timing on the part of Cleave and publisher Simon & Schuster, but
Gold
would be first class anytime, anywhere. It's an adrenaline-fueled drama about winning and losing, in the velodrome and daily existence, an explosive exploration of the cost of success and the way sports competition can spill unhappily into life. It will force you to reconsider the definition of "victory," and it will leave you breathless . . . Cleave proves again that if writing were an Olympic sport, he'd be vying for a medal."
—Miami Herald
"
Gold
wins a medal for impressive timing: Chris Cleave's adrenalized novel—which breathlessly tracks the complicated friendship and furious competition between two speed cyclists, Kate and Zoe, as they train for a fictional London 2012 Olympics—arrives just a month before the opening of the actual London 2012 Olympics. . . . As Cleave demonstrated in his best-seller
Little Bee
, he is a full-hearted writer."
—Entertainment Weekly
"Cleave goes for the gold and brings it home in his thrillingly written and emotionally rewarding novel about the world of professional cycling. . . . Cleave expertly cycles through the characters' tangled past and present, charting their ever-shifting dynamic as ultra-competitive Zoe and Kate are forced to decide whether winning means more to them than friendship . . . Cleave likewise pulls out all the stops getting inside the hearts and minds of his engagingly complex characters. The race scenes have true visceral intensity, leaving the reader feeling breathless . . . From start to finish, this is a truly Olympic-level literary achievement."—
Publishers Weekly (boxed starred review)
"Cleave's latest novel demonstrates the determination of three extraordinary athletes in a story about true sacrifice. . . . [Their lives are] so intertwined, so complex, that the outcome is sure to be a surprise. Close on the heels of his international best seller
Little Bee
, British author Cleave has written another story so riveting that it is impossible to put down."
—Library Journal (starred review)
"After the enormous popular success of his second novel,
Little Bee
, British author Cleave turns to the world of Olympic speed cyclists to explore the shifting sands of ambition, loyalty and love. Tom, who just barely missed his own medal in 1968, is coaching Kate and Zoe to represent Britain at the 2012 Olympics, which the 32-year-old women know will be their last. . . . [Kate's] little girl Sophie is the novel's real heart. Cleave has a gift for portraying difficult children who pull every heartstring. . . . [He] knows how to captivate with rich characters and nimble plotting."—
Kirkus Reviews (starred review)
"Readers galvanized by best-selling Cleave's previous politically scorching novels (
Little Bee
, 2009) will be surprised by his foray into the world of Olympic bicycle racing until they discern just how psychologically gripping a tale this is . . . Spanning the Athens, Beijing, and looming London 2012 Olympics, Cleave's brilliantly plotted, nail-biting, and emotional tale dramatizes the anguish and triumphs of ambition and sacrifice, fame and heartbreak to celebrate the true gold of love."
—Booklist (starred review)
"
Gold
spins a tire-ripping velodrama out of two subjects underrepresented in novels: the head-games of Olympic track cycling and the heart-splitting demands faced by female athletes who try to balance motherhood and elite competition. . . . the novel's deepest human resonance is pumped up by eight-year-old Sophie Argall, whose reliance on a
Star Wars
fantasy life as she strives to be a champion leukemia patient is depicted with beguiling tough-tenderness. . . . Well worth the ride for its contextual details, its generous supply of dramatic scenes and the steadiness of Cleave's storytelling pulse."
—ShelfAwareness.com
"[Chris Cleave] knows how to tell a story . . .
Gold
is a tightly wound, suspenseful tale set in the months and years leading up to the Summer Olympics in London."
—Columbus Dispatch
"TV producers who create those biographical segments on Olympic athletes could only wish that Chris Cleave wrote their scripts. . . . He has made the stakes as high as possible. . . .If medals were given for writing scenes of anguished decision-making, Cleave would have as many golds as Eric Heiden."
—The Milwaukee Journal-Sentinel
"Not only is Chris Cleave's latest installment wrought with ingenious similes and fast-paced wit (readers of
Little Bee
, you know what we mean), but the story of a complicated friendship between two Olympic bikers serves as highbrow pregame to the London events."
—DailyCandy.com
"There is something in [Chris Cleave's] books that is good and hopeful without being trite or overly simple. . . . Cleave writes about moral complexity without arrogance or pretense."
—About.com
"Cleave's novels are both timeless and timely, addressing issues and questions that are socially
—
and often morally
—
relevant . . .
Gold
is an emotional ride through the world of professional cycling."
—NewCaananNews.com
"The word-of-mouth buzz on this book is huge—advance readers love it. Cleave draws rich, deeply rendered characters and knows how to invest his plots with emotion and drama."
—The Hollywood Reporter (4 out of 4 stars)
"
Gold
is full of surprises. . . . Like the cyclists it chronicles, it turns pretty effortlessly and it's worth the ride."
—SeacoastOnline.com
"
Gold
is full of surprises. . . . Like the cyclists it chronicles, it turns pretty effortlessly and it's worth the ride."
—SeacoastOnline.com
"Cleave has the extremely rare power of making you smile with lively language and clever observations while he is thoroughly, irreparably breaking your heart."
—Newsday (NY)
"In British novelist Chris Cleave's new novel,
Gold
, the cloistered world of Olympic-level cycling in England forms the backdrop for a gripping story about what happens when winning is no longer everything. . . . There is plenty of built-in drama with this setup, but
Gold
shoots for something more meaningful. Cleave's story is not just an exploration of the strategic choices people make to achieve victory; it's also about the confounding calculations they make for happiness and redemption in everyday life."
—Seattle Times
"
Gold
is timely—obviously so, but the story doesn't ride on the upcoming Games for effect. This is a story of competitiveness and its outcomes, sacrifices as well as rewards. Cleave lets his characters show the reader how their particular traits of character shape their actions and, ultimately, their lives."
—Denver Post
"Bound to pull readers in until the breathtaking finale . . . Cleave masterfully presents a tale that combines love and the sacrifices families make against the unforgiving world of athletics in a heartwarming and profound way."
—Deseret News
"In
Gold
, as with his previous work, Cleave writes with tremendous heart, displaying a keen eye for life's absurdities, sorrows, and triumphs. The story is riveting, the characters unforgettable.
Gold
has everything you could ask for in a story: adrenaline-soaked racing, wretchedly human decisions, laugh-out-loud moments and quietly heartbreaking ones."
—Bookpage
"Perfectly timed and engaging . . . Cleave, the English writer whose
Incendiary
and
Little Bee
likewise burrowed inside their female protagonists' heads with empathy and insight . . . describes this world astutely, keenly."—
Philadelphia Inquirer
"Cleave's blow-by-blow descriptions of the races are as exciting and rapidly paced as the real thing. . . .
Gold
is a tale of two friends confined by the rarefied parameters world-class athletes must live in, and can't help but strain against. Their sacrifices are very different, yet they are bound by shared experience, secrets and love. Kate represents who most of us are, while Zoe is who we'd like to be, if only for a day." —
Minneapolis Star-Tribune
"Chris Cleave is a writer who goes for your throat and doesn't let go. . . . The rivalry that powers the book is the competition between the closely matched Kate and Zoe, which takes place on and off the course. That they also develop a friendship, uneasy and fraught but still real, is a testament to Kate's generosity, as well as Cleave's talent as a writer. He writes women, particularly wounded women, with great empathy and skill."—
The Oregonian
"Moving and compelling . . . . The millions of readers of
Little Bee
can attest that despite the delicacy of his prose, Cleave doesn't deal in half measures or subtle strokes—he goes straight for the heartstrings. Every page of
Gold
is drenched with an urgency of feeling that generates the same emotional pleasure as a great moment in sports, where we simultaneously witness triumph and failure in the starkest, most dramatic terms. . . .
Gold
will likely resonate most with readers for the way it unveils the ordinariness surrounding the extraordinary." —
Nashville Scene
"Novels about sport are notoriously hard to pull off . . .
Gold
, Chris Cleave's third novel, is a skillful demonstration of the form. . . . This is no niche book for aficionados looking for a brief summer distraction. Instead, cycling is the backdrop for a deeper exploration of the struggle between the physical and the psychological . . .
Gold
works as a novel because Mr. Cleave manages to make the reader care about what it takes to win—or even to take part. . . . The small details speak loudly. . . . Cleave knows what makes a good story. Here, his concern is not with macho physicality or crossing a line, but with the endless and enduring human endeavors: love, death and what is left when hopes and dreams are crushed or fulfilled. A book to savor long after the Olympic games are over."
—The Economist
"[Cleave's] descriptions of riding fast, world's-fastest fast, are breathtaking."
—Los Angeles Times
"Cleave is excellent on the technical details of the athletic life which, along with its physical and mental demands, requires further personal sacrifices, both of privacy and happy relationships. . . . This book overflows with astute perceptions. One of the most moving is the parallel drawn between the athletes' need to live in the present . . . and the more devastating necessity for the parents of a sick child to not consider the horrors the future may bring."—
Times Literary Supplement (UK)
"Cleave writes of the physical experience of cycling at top speed with clarity and vigor. . . . A gripping tale with many surprising turns on the way to its photo-finish climax."
—Dallas Morning News
"Readers of
Little Bee
, Cleave's previous novel, will remember his gift with turning a phrase. . . . Those weary of light summer reading (Hello,
Fifty Shades
) will also relish Cleave's rich descriptions."
—Louisville Courier-Journal