The Prodigal Son: A Carmine Delmonico Novel (Hardcover)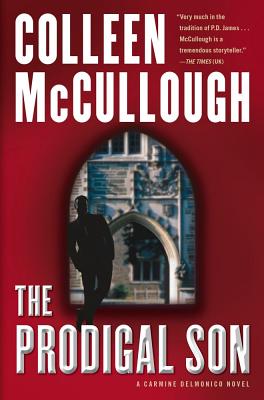 Description
---
Internationally bestselling author Colleen McCullough presents a new novel in the thrilling, gritty series featuring Captain Carmine Delmonico, who must find a brilliant killer hiding out in the prestigious and cutthroat world of academia.

Carmine Delmonico returns in this heart-pounding thriller from internationally acclaimed bestselling author Colleen McCullough.

HOLLOMAN, CONNECTICUT, 1969. A lethal toxin, extracted from the blowfish, is stolen from a laboratory at Chubb University. It kills within minutes and leaves no trace behind, and worried biochemist Dr. Millie Hunter reports the theft at once to her father, Medical Examiner Dr. Patrick O'Donnell.

Patrick's cousin Captain Carmine Delmonico is therefore quick off the mark when the bodies start to mount up. A sudden death at a dinner party followed by another at a gala black-tie event seem at first to be linked only by the poison and the presence of Dr. Jim Hunter, a scientist on the brink of greatness and husband to Millie. A black man married to a white woman, Dr. Jim has faced scandal and prejudice for most of his life, so what would cause him to risk it all now? Is he being framed for murder—and if so, by whom? Carmine and his detectives must follow the trail through the university town's crowd of eccentrics, no matter how close to home it may lead.
About the Author
---
Colleen McCullough, a native of Australia, established the department of neurophysiology at the Royal North Shore Hospital in Sydney before working as a researcher at Yale Medical School for ten years. She is the bestselling author of numerous novels, including The Thorn Birds, and lives with her husband on Norfolk Island in the South Pacific.
Praise For…
---
"In her enthusiastic style . . . McCullough delves into small town intrigue with well-defined characters and vivid descriptions. . . . Entertaining."

"The novel is a rich, tightly-woven tapestry of colorful characters and intriguing plot . . . Stunning, surprising, culturally shocking, The Prodigal Son is traditional McCullough at her best."

"Just when it seems obvious who the murderer is, the evidence falls apart and it's back to square one. For those who enjoy drawing room stories, with many and varied characters, this will be an enjoyable read."

"Colleen McCullough proves once again that she's a master of fiction with a wide ranging imagination in this book."
— Samstillreading.com