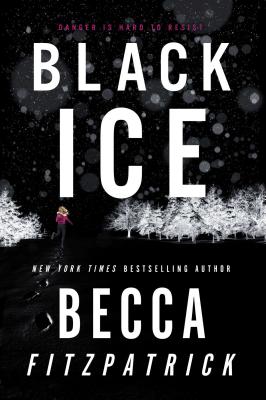 $11.99
Usually Ships in 1-5 Days
Staff Reviews
---
Bestselling author Becca Fitzpatrick has shown us a world filled with guardian angels in her Hush, Hush saga and now she is taking us hiking through a blizzard in her latest novel Black Ice.  Britt is still healing from her breakup with Calvin and has decided the best way to get over him, or maybe to win him back, is to go backpacking through the Tetons.  She has been training all year for this adventure and is planning to go with her bestfriend Korbie, who is also Calvin's little sister.  As the two set out for Korbie's family cabin, they get caught in a terrible blizzard.  The two girls start walking in the snow and it doesn't take long for them to become cold and wet.  Stumbling upon a small cabin Britt and Korbie ask the two boys staying there if they can spend the night.  Things take an ugly turn and the girls find themselves being held hostage by two fugitives.  Now Britt is forced to lead them off the mountain. She continues to have hope that someone will rescue her since she knows that her ex-boyfriend is on the mountain too.  As she keeps trekking down she uncovers evidence of a serial killer and begins to suspect the killer is on the mountain and looking for her.
Fitzpatrick has created an intense YA thriller that will have you chilled to the bone.  The twists and turns of the plot were suspenseful and created a fast pace. I like that Britt realized that in order to live she had to rely on herself, not the men in her life, to save her.  She is determined, resourceful and she refuses to give up even when facing extreme fear and weather.  I liked that this book is so drastically different from Fitzpatrick's other novels.  If you are looking for a new thriller to read, this is an excellent choice.
— Jody
Description
---
Danger is hard to resist in this sexy thriller from Becca Fitzpatrick, the New York Times bestselling author of the Hush, Hush saga.

Britt Pheiffer has trained to backpack the Teton Range, but she isn't prepared when her ex-boyfriend, who still haunts her every thought, wants to join her. Before Britt can explore her feelings for Calvin, an unexpected blizzard forces her to seek shelter in a remote cabin, accepting the hospitality of its two very handsome occupants—but these men are fugitives, and they take her hostage.

Britt is forced to guide the men off the mountain, and knows she must stay alive long enough for Calvin to find her. The task is made even more complicated when Britt finds chilling evidence of a series of murders that have taken place there…and in uncovering this, she may become the killer's next target.

But nothing is as it seems, and everyone is keeping secrets, including Mason, one of her kidnappers. His kindness is confusing Britt. Is he an enemy? Or an ally?

"Rife with psychological twists exploring themes of revenge, misogyny, and familial duty" (Publishers Weekly), Black Ice is New York Times bestselling author Becca Fitzpatrick's riveting romantic thriller set against the treacherous backdrop of the mountains of Wyoming. Falling in love should never be this dangerous…
About the Author
---
Becca Fitzpatrick is the author of Black Ice, Dangerous Lies, and the Hush, Hush saga, including Hush, Hush; Crescendo; Silence; and Finale—all of which debuted as New York Times bestsellers. She graduated college with a degree in health, which she promptly abandoned for storytelling. When not writing, she's most likely running, prowling sales racks for shoes, or watching crime drams on TV. She lives in Colorado with her family. Find out more at BeccaFitzpatrick.com.