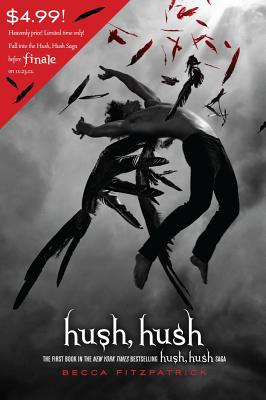 Email or call for price
Special Order - Subject to Availability
Staff Reviews
---
Becca Fitzpatrick's novel Hush, Hush is a fabulous teen paranormal read. Nora's life finally seems to be going back to normal now that a year has past since her father's death. But things take an unusual turn the instant her biology teacher enforces a new seating chart that puts her and the new kid Patch together. Now it seems as if Patch is everywhere and Nora isn't sure if she should be scared of him or not. As if her life isn't complicated enough, Elliot, a new transfer student, is aggressively pursuing Nora for dates, her best friend is attacked, and she is having weird hallucinations.
Hush, Hush has a fun psychological twist that make the story so fascinating and compelling to read. As mysterious things begin to happen to Nora, I found myself struggling to decided if she is hallucinating the events or if someone is causing them. I also loved that Fitzpatrick never really lets you become comfortable with Patch. She did such a great job of displaying Nora's conflicting emotions that it was easy to feel mistrust towards Patch. The angel mythology that Fitzpatrick creates is fresh and exciting, making her stand apart from all of the other author's writing in this genre. This is a great series to start your summer reading. On a side note, I am so excited to meet Becca Fitzpatrick at the 2012 Book Expo next week!
— Jody
Description
---
A special low-priced edition of the first book in the bestselling Hush, Hush Saga!
For Nora Grey, romance was not part of the plan. At least, not until Patch came along. With his easy smile and probing eyes, Nora is drawn to him against her better judgment. But after a series of terrifying encounters, Nora's not sure who to trust—she can't decide whether she should fall into Patch's arms or run and hide from him. And when she tries to seek some answers, she finds herself near a truth more unsettling than any feeling Patch evokes. For Nora stands amid an ancient battle between the immortal and those who have fallen—and choosing the wrong side will cost her life.