The Evolution of Mara Dyer (The Mara Dyer Trilogy #2) (Hardcover)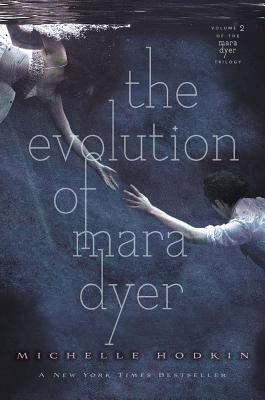 $19.99
Usually Ships in 1-5 Days
Staff Reviews
---
The Evolution of Mara Dyer by Michelle Hodkin was just as gripping and mesmerizing as the first book in the trilogy.  Mara now knows that Jude is alive and seems to be after her.  This has caused her serious anxiety issues. To make things even harder, Mara is trying to convince her family that she is not crazy and should be allowed to live at home.  The only good thing that has come from this whole ordeal is Noah coming back into her life.  He seems to be the only thing that is keeping her grounded.  As she continues to come to terms with her "gift" and hang on to what is real, Mara discovers that there could be much more to her and Noah's talents.
I loved this book!  The characters are fantastic and they just keep getting better.  I loved how this book feels incredibly contemporary and then a few pages later it is filled with supernatural elements.  All and all creating a very realistic feeling story.  Hodkin has done such an amazing job of keeping her readers guessing.  Just when you think you have everything figured out, she throws in one more twist.  Of course this also means we are left with a cliffhanger ending that leaves us anxiously awaiting the final volume.  I am completely intrigued with the possible family back-story that was hinted at in this book, as well as learning what Mara and Noah's gifts mean.  This has been one of my all time favorite young adult series.  It has everything you desire in a book, a love story that is well written and witty, suspense and mystery that keeps you on the edge of your seat,  and of course  fun paranormal elements.
— Jody
Description
---
The truth about Mara Dyer's dangerous and mysterious abilities continues to unravel in the New York Times bestselling sequel to the thrilling The Unbecoming of Mara Dyer.

Mara Dyer once believed she could run from her past.

She can't.

She used to think her problems were all in her head.

They aren't.

She couldn't imagine that after everything she's been through, the boy she loves would still be keeping secrets.

She's wrong.

In this gripping sequel to The Unbecoming of Mara Dyer, the truth evolves and choices prove deadly. What will become of Mara Dyer next?
About the Author
---
Michelle Hodkin grew up in Florida, went to college in New York, and studied law in Michigan. She is the author of the Mara Dyer trilogy, including The Unbecoming of Mara Dyer, The Evolution of Mara Dyer, and The Retribution of Mara Dyer. Visit her online at MichelleHodkin.com.
Praise For…
---
Praise for The Unbecoming of Mara Dyer:

"Haunting and dreamlike, the intrigue and romance of Mara Dyer will inescapably draw you in." --Cassandra Clare, #1 New York Times bestselling author of The Mortal Instruments and The Infernal Devices series

"The Unbecoming of Mara Dyer strikes a rare balance of darkly funny, deliciously creepy and genuinely thoughtful. One minute I was laughing out loud, and the next, I was so scared I wanted to turn on all the lights and hide under the covers. Michelle Hodkin's talent and range are obvious, from her chilling descriptions to romantic scenes that almost crackled on the page. I've never read anything quite like it."--Veronica Roth, #1 New York Times bestselling author of Divergent

"A clever, captivating thriller, The Unbecoming of Mara Dyer is perfect for those (like me) who like their heroes dark, their heroines dangerous, and their romances seriously twisted."
--Kirsten Miller, New York Times bestselling author of The Eternal Ones

"WOW. Michelle Hodkin's debut will keep you guessing until the last page--and long after."
--Beth Revis, New York Times bestselling author of Across the Unviverse

"As spooky and twisty as it is lyrical and beautiful, The Unbecoming of Mara Dyer grabbed me and wouldn't let go. Read this one with the lights on."
--Rachel Hawkins, New York Times bestselling author of Demonglass

Reviews of The Unbecoming of Mara Dyer:

There are echoes of Stephen King's classic Carrie in this young-adult series kickoff...Hodkin's transitions from the mundane to hallucinated horror are unexpected, seamless and creepy, packing the same sort of cinematic punch as scenes from The Blair Witch Project....Discerning the truth is just part of the pleasure of reading the delightfully bent reality in The Unbecoming of Mara Dyer.
--Los Angeles Times

"It's the story of a girl trying to piece together what happened the night she, her best friend, her boyfriend and his sister spent the night in an abandoned asylum and only she survived, unscathed but traumatized...And it's the story of a girl falling in love...Be careful, 'cause you'll fall right along with her."
--MTV's Hollywood Crush

"Hodkin's debut is witty and thought-provoking and will have readers captivated until the very end. It takes readers through constant chaos, wonder, and bewilderment...The Unbecoming of Mara Dyer will satisfy mystery lovers, dark fantasy seekers, horror believers, and readers who have a knack for romance."
--VOYA

"Anyone who thinks old-fashioned romantic scenes can't move teens today will be proven wrong here. This boy will make readers swoon. The characters are real and wonderful, and the supernatural story is riveting. Expect this book to fly off the shelves."
--School Library Journal

"Creepy, haunting, addictive and surprisingly romantic, Mara's story is beautiful and complex...Hodkin has elevated the teenage paranormal romance into something completely her own."
--Romantic Times

"First-time author Hodkin has paired a steamy romance with a paranormal mystery that will cause teen readers whiplash as they jerk from one plot twist to another."
--Booklist

"A strong, inventive tale."
--Kirkus Reviews

"[Hodkin] keeps readers' interest focused throughout with a lively prose style and a bit of romance. Her skillful exploitation of ambiguity enhances the suspense…Readers will be guessing until a final suspenseful scene resolves some secrets and sets up what promises to be an exciting and intriguing next installment. Interesting and unusual."
— Kirkus Reviews

"Just as in the first book of the series (The Unbecoming of Mara Dyer, 2011), this will have readers doubting Mara's sanity, trusting the mental health professionals, and suspicious of Noah's intentions. Readers will eagerly await the concluding title."
— Booklist

"This second volume brings some answers, a lot more questions, and another cliff-hanger ending....The heat gets turned up a notch."
— VOYA