Heroes of Olympus, The, Book Three The Mark of Athena (Special Limited Edition) (The Heroes of Olympus) (Hardcover)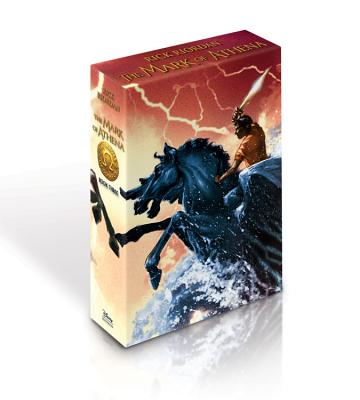 $100.00
Email or call for price.
Staff Reviews
---
Mark of Athena by Rick Riordan is fantastic.  He just keeps getting better with every book, of course this means that we read it nonstop and then are anxiously waiting for the next book.  The story picks up right where The Son of Neptune ended.  Annabeth, Jason, Piper, and Leo are all flying along in the Argo II hoping that Camp Jupiter doesn't think they are trying to start a war.  This paired with the weight of having the coin that Athena, her mother, gave her with the words "avenge me"  attached  as made life a little stressful for Annabeth.  However, this is not discouraging her from tracking down Athena's statue and making things right.
Riordan writes such beautiful descriptions; I was in awe when he the described the statue of Athena.    He  also has such a gift for keeping his readers glued to his every word.  The tale never becomes repetitive or mundane.  In fact, they become more suspenseful and every bit of the story is packed with adventure.  This has been such a great spin off series from the Percy Jackson and the Olympians and is wonderful for all ages.
— Sherry
Description
---
Artfully packaged and given the deluxe treatment, this signed and numbered limited edition of The Mark of Athena is sure to delight the legions of fans of the #1 New York Times bestselling series. Each book is hand-signed by Rick Riordan and includes specially commissioned full-color art from series illustrator John Rocco. The deluxe slipcase features a wrap-around illustration and makes an elegant centerpiece for any bookshelf.

About the Author
---
Rick Riordan (www.rickriordan.com) is the author of the New York Times #1 best-selling The Heroes of Olympus, Book One: The Lost Hero; the New York Times #1 best-selling The Kane Chronicles, Book One: The Red Pyramid; as well as the five books in the New York Times #1 best-selling Percy Jackson and the Olympians series. His previous novels for adults include the hugely popular Tres Navarre series, winner of the top three awards in the mystery genre. He lives in San Antonio, Texas, with his wife and two sons.