Heroes of Olympus, The, Book Five The Blood of Olympus (The Heroes of Olympus #5) (Hardcover)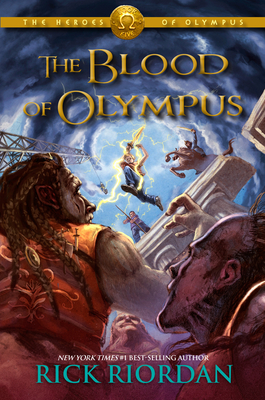 $19.99
Usually Ships in 1-5 Days
Description
---
Though the Greek and Roman crewmembers of the Argo II have made progress in their many quests, they still seem no closer to defeating the earth mother, Gaea. Her giants have risen-all of them-and they're stronger than ever. They must be stopped before the Feast of Spes, when Gaea plans to have two demigods sacrificed in Athens. She needs their blood-the blood of Olympus-in order to wake.

The demigods are having more frequent visions of a terrible battle at Camp Half-Blood. The Roman legion from Camp Jupiter, led by Octavian, is almost within striking distance. Though it is tempting to take the Athena Parthenos to Athens to use as a secret weapon, the friends know that the huge statue belongs back on Long Island, where it might be able to stop a war between the two camps.

The Athena Parthenos will go west; the Argo II will go east. The gods, still suffering from multiple personality disorder, are useless. How can a handful of young demigods hope to persevere against Gaea's army of powerful giants? As dangerous as it is to head to Athens, they have no other option. They have sacrificed too much already. And if Gaea wakes, it is game over.
About the Author
---
Rick Riordan (www.rickriordan.com) is the author of the # 1 New York Times best-selling The Heroes of Olympus, Book One: The Lost Hero; The Heroes of Olympus, Book Two: The Son of Neptune; The Heroes of Olympus, Book Three: The Mark of Athena; The Heroes of Olympus, Book Four: The House of Hades; the #1 New York Times best-selling Kane Chronicles; and the five books in the #1 New York Times best-selling Percy Jackson and the Olympians series. His previous novels for adults include the hugely popular Tres Navarre series, winner of the top three awards in the mystery genre. He lives in Boston, Massachusetts with his wife and two sons.


Praise For…
---
PRAISE FOR THE LOST HERO

"Readers longing for a return to Camp Half-Blood will get their wish.... ...the action scenes come frequently as the three heroic teens fight monstrous enemies in North American locales..... Flashes of humor lighten the mood at times, but a tone of urgency and imminent danger seems as integral to this series as the last. With appealing new characters within a familiar framework, this spin-off will satisfy the demand for more."
—
BooklistPRAISE FOR THE SON OF NEPTUNE
"Should pacing and wit continue unabated into the third volume, whose foretold European setting promises further freshness, fans will eagerly await numbers four and five."
—
Kirkus