Clockwork Angel (The Infernal Devices #1) (Paperback)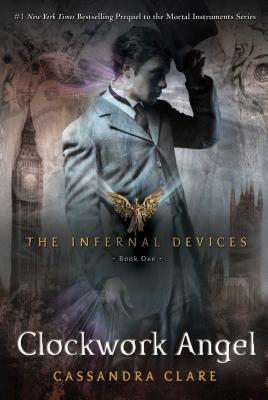 Other Books in Series
This is book number 1 in the The Infernal Devices series.
Staff Reviews
---
Clockwork Angel by Cassandra Clare is a riveting Victorian paranormal tale. This series is a prequel to Clare's Mortal Instrument series, but really each one stands perfectly well as it's own series. (You don't have to read one in order to enjoy the other.) This series does introduce new family members or characters that are in the Mortal Instrument series, giving a little taste of the older generations. Tessa has set out for London to be reunited with her brother, but things go terrible wrong when she lands and two ladies greet her at the docks instead of her brother, who in fact has gone missing. What Tessa doesn't realize, is that she is being kidnapped and forced to learn about her special abilities. Thankfully, Will and Jem stumble upon Tessa and immediately take her back to the Sanctuary for safe keeping. Once there, Tessa meets new people and a whole new world that she must somehow learn to accept, all the while continuing her search for her brother.
This was a great beginning to the trilogy (so sad that it is only going to be a trilogy). I love the world that Clare creates. You get a sense of the dark dreariness of London, but also the wonders of the industrial age where new inventions are springing up everyday. I wouldn't classify this as a steampunk story (no alternate history to speak of), but Clare stills adds the flavor of mythical inventions that we all love in our steampunk fantasies. The characters are incredibly engaging and have great interactions with each other. I find myself laughing at their sarcastic comments to one another and than immediately wondering what they are brooding over. Needless to say, I am really excited to see how Clare continues to develop the characters, specifically Tessa. Clare did a wonderful job of keeping me reading, she never stopped the excitement as the characters continue on their adventures. I cruised through the entire book and quickly got Clockwork Prince to continue the fun.
— Jody
Winter 2011 Kids' Next List
---
"When 16-year-old Tessa Gray journeys from New York to London to join here brother, she is kidnapped and trapped in a fantastical world of werewolves, shape-changers and vampires. Tessa is rescued by the Shadowhunters, warriors dedicated to ridding the world of these demons. Tessa soon discovers who she might really be -- The Clockwork Angel -- and how she personifies the link between the Shadowhunters and demons in Victorian England."
— Jack Blanchard, Fairy Godmother, Washington, DC
Description
---
Magic is dangerous—but love is more dangerous still. Discover the riveting first book in the #1 New York Times bestselling Infernal Devices Trilogy, prequel to the internationally bestselling Mortal Instruments series.

When sixteen-year-old Tessa Gray crosses the ocean to find her brother, her destination is England, the time is the reign of Queen Victoria, and something terrifying is waiting for her in London's Downworld, where vampires, warlocks and other supernatural folk stalk the gaslit streets. Only the Shadowhunters, warriors dedicated to ridding the world of demons, keep order amidst the chaos.

Kidnapped by the mysterious Dark Sisters, members of a secret organization called The Pandemonium Club, Tessa soon learns that she herself is a Downworlder with a rare ability: the power to transform, at will, into another person. What's more, the Magister, the shadowy figure who runs the Club, will stop at nothing to claim Tessa's power for his own.

Friendless and hunted, Tessa takes refuge with the Shadowhunters of the London Institute, who swear to find her brother if she will use her power to help them. She soon finds herself fascinated by—and torn between—two best friends: James, whose fragile beauty hides a deadly secret, and blue-eyed Will, whose caustic wit and volatile moods keep everyone in his life at arm's length . . . everyone, that is, but Tessa. As their search draws them deep into the heart of an arcane plot that threatens to destroy the Shadowhunters, Tessa realizes that she may need to choose between saving her brother and helping her new friends save the world. . . . and that love may be the most dangerous magic of all.
About the Author
---
Cassandra Clare is the #1 New York Times and USA TODAY bestselling author of The Red Scrolls of Magic, Lady Midnight, Lord of Shadows, and Queen of Air and Darkness, as well as the internationally bestselling Mortal Instruments series and Infernal Devices trilogy. She is the coauthor of The Bane Chronicles with Sarah Rees Brennan and Maureen Johnson; Tales from the Shadowhunter Academy with Sarah Rees Brennan, Maureen Johnson, and Robin Wasserman; and Ghosts of the Shadow Market with Sarah Rees Brennan, Maureen Johnson, Kelly Link, and Robin Wasserman. Her books have more than 50 million copies in print worldwide and have been translated into more than thirty-five languages and made into a feature film and a TV show. Cassandra lives in western Massachusetts. Visit her at CassandraClare.com. Learn more about the world of the Shadowhunters at Shadowhunters.com.