The Burglary: The Discovery of J. Edgar Hoover's Secret FBI (Thorndike Press Large Print Crime Scene) (Large Print / Hardcover)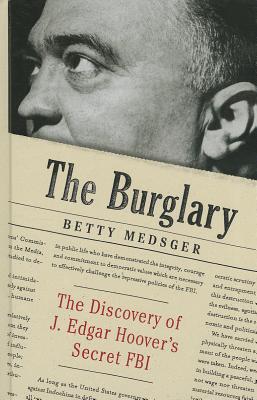 Email or call for price
Special Order - Subject to Availability
Staff Reviews
---
Betty Medsger's The Burglary: The Discovery of J. Edgar Hoover's Secret FBI was a thoroughly detailed and enjoyable read.  Before Watergate and the Pentagon Papers, there was the Media Pennsylvania FBI office burglary.  A small group of activists wanted to expose the truth behind J. Edgar Hoover and his secret illegal actions in the United States.  The group planned a break-in of the offices to find the incriminating evidence and then exposed Hoover through the press.  Betty Medsger was one of the journalists who received copies of the stolen files and then published articles on the findings. Many years later, she learned the identities of the people in the activist groups and was able to interview them bringing even more information to light.
This amazing book looks at not only how the activist group decided to commit the crime but how they carried it out, as well as  the toll it took on many of them.  Medsger examines the aftermath for the FBI and more importantly, the lengths which Hoover was willing to go to control citizens, congress and even the president.  The amount of detail that Medsger includes is incredible. Most of the information I was unaware of or had forgotten.  If you are an American History buff, this would be an excellent choice to read.
— Tricia
Description
---
The never-before-told full story of the 1971 history-changing break-in of the FBI offices in Media, Pennsylvania, by a group of unlikely activists--quiet, ordinary, hardworking Americans--that made clear the shocking truth and confirmed what some had long suspected, that J. Edgar Hoover had created and was operating his own shadow Bureau of Investigation.
The book shows how the break-in, and subsequent release of the contents of the FBI's files to newspapers across the country, upended the public's perception of the up-till-then inviolate head of the Bureau, paving the way for the FBI's overhaul for the first time since its inception forty-seven years before, in 1924, and setting the stage for the sensational release three months later by Daniel Ellsberg of the top-secret seven-thousand-page Pentagon study of U.S. decision making regarding the Vietnam War that became known as the Pentagon Papers.
About the Author
---
Betty Medsger was born in Johnstown, Pennsylvania. Medsger is a former chair of the Department of Journalism at San Francisco State University and is the founder of its Center for Integration and Improvement of Journalism. She is the author of "Winds of Change, Framed," and "Women at Work." She lives in New York and Connecticut.