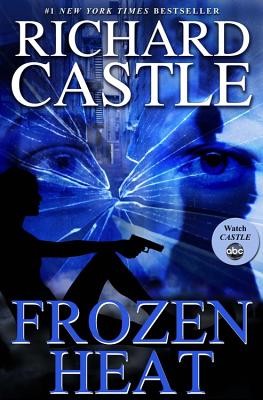 Staff Reviews
---
Richard Castle is a mystery author.   So needless to say, I get really excited every September when a new Richard Castle novel comes out, and this year's was  Frozen Heat.  Just to clear up any confusion, no Richard Castle is not an actual person but a fictional character from the TV series that the ABC studio uses as a pen name.  The books are written as if the fictional Richard Castle wrote them, so the stories are similar to the TV show.    In Frozen Heat, Nikki and Jameson's relationship takes an interesting turn when her murdered mother's college friend is murdered and there is a connection between the two crimes.
One of my favorite things about reading and watching the show is to see the progression of the TV relationships and the book relationships.  As a bookstore owner,  I have also been intrigued with how the TV show builds hype for the book.  It has also been interesting to see how Castle's mind interprets his  relationship with Detective Kate Beckett as you read the book.  Although, it does get a bit crazy if you read the book and watch the TV series at the same time – the book reads exactly like an episode.  Castle's books continue to be witty and funny as well as suspenseful.  This is a must have for any Castle fan.
— Tricia
About the Author
---
Richard Castle is the bestselling author of the Nikki Heat and Derrick Storm bestsellers. He is played by actor Nathan Fillion.