Serpent's Kiss: A Witches of East End Novel (Hardcover)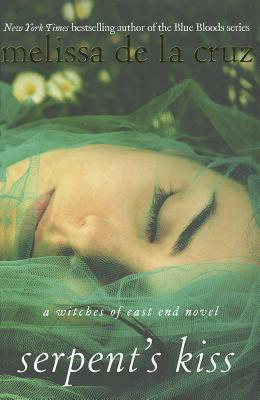 Other Books in Series
This is book number 2 in the Witches of East End series.
Staff Reviews
---
Melissa de la Cruz's second novel in the Witches of East End series, Serpent's Kiss, is captivating continuation. Joanna and her daughters are finally able to use their magic again, and use it they will. Freya has started playing match maker at the bar with her potions. Ingrid is still helping everyone with their domestic troubles . And Joanna is continuing her games with Tyler. But things are starting to change. Freya's twin has reappeared and is starting to cast doubt on the true nature of Freya's fiance Killian. Ingrid is attempting to learn how to date. And Joanna is not only trying to decide how she feels about her estranged husband but is also attempting to help a spirit without invoking her sister's wrath. Things never seem to stay quiet for long when the Beauchamp family is around.
I thought this was a great sequel to Witches of East End. You really get to know the characters in this book. In the first book the characters were a bit one dimensional but in the second book you start to see multiple aspects of their personalities. I also like the mystery and mythology of the destruction of the bridge. The girls daily lives and ordeals are fun to read, but the mystery really gave the book its drive. And naturally since I am a de la Cruz fan, I love that this book references the Blue Blood series and vice-versa. It is always fun to read the cross over and see how each group (vampire or witch) views the other. Needless to say, the plot thickens in this book and I can't wait for the next book.Needless to say, the plot thickens is this book and I can't wait for the next.
— Jody
Description
---
From the bestselling author of the Blue Bloods and The Descendants series comes the thrilling sequel to the Witches of East End.

The intriguing Beauchamp family, introduced in the New York Times bestselling Witches of East End, returns in Serpent's Kiss, with dizzying plot twists and spellbinding magic.

Joanna and her daughters, bookish Ingrid and wild-child Freya, are just settling into the newfound peace that has been cast over their small, off-the map town of North Hampton. With the centuries-old restriction against practicing magic lifted, casting spells, mixing potions, and curing troubled souls has never felt so good for the three witches. That is, until everything gets turned upside down -- from Joanna's organized kitchen to Ingrid's previously nonexistent love life to Freya's once unshakeable faith in her sexy soul mate, Killian Gardiner.

When Freya's twin brother, Freddie, suddenly returns, escaped from Limbo and professing innocence on a long-ago crime, Freya should be ecstatic. The golden boy can do no wrong. Or can he? Freddie blames no other than her fiancvâillian for his downfall, and enlists Freya's help to prove it. Now Freya doesn't know who to believe or trust.

And for the first time in -- well, forever, really -- Ingrid is also busy in love. Matt Noble, the handsome and charming police detective, has won her heart. But can romance work between a virgin witch and a mortal who doesn't believe in magic? Things get even more complicated when it appears Ingrid is harboring the prime suspects in Matt's police investigation.

To add to the chaos, a dead spirit is attempting to make contact with Joanna--but does it mean to bring harm or help? Joanna asks her sort-of ex-husband Norman to help figure it out, only to accidentally invite him to a Thanksgiving dinner with a dapper gentleman she's recently begun dating.

As the witches pull together to discover the serpent within their midst and the culprit behind Freddie's imprisonment, everything is thrown into peril. Will the discovery come too late to save those they love most?

Melissa de la Cruz weaves all this and more in a blockbuster sequel that is not to be missed by her fans, and one that is sure to enchant new readers of the series.
About the Author
---
Melissa de la Cruz is the author of many bestselling novels, including all the books in the Blue Bloods series and Witches of East End. She lives in Los Angeles, California with her husband and daughter, and continues to be a hitmaker for both adult readers and her YA fans.
Praise For…
---
Praise for the Witches of East End series:

"Move over, zombies, vampires, and werewolves, and make way for witches a juicy new franchise."—Entertainment Weekly

Praise for the Witches of East End series:

"A bubbling cauldron of mystery and romance."—People

Praise for the Witches of East End series:

"A magical and romantic page-turner."—Washington Post

Praise for the Witches of East End series:

"[De la Cruz] lets her repressed sorceresses rip."—New York Times

Praise for the Witches of East End series:

"This tale of powerful women mixes mystery, a battle of good versus evil and a dash of Norse mythology into a page-turning parable of inner strength."—Self

Praise for the Witches of East End series:

"[I]ntrigue, mystery, and plenty of romance."—MTV.com

Praise for the Witches of East End series:

"Casts a spell."—Los Angeles Times

Praise for the Witches of East End series:

"Fans of the New York Times bestselling YA author (Blue Bloods series) will be delighted with the next entry in her new adult series (after Witches of East End). A compelling tale of powerful magic, romance, betrayal, and suspense."—Jennifer Anderson, Texas A&M University Library