Witches of East End (Paperback)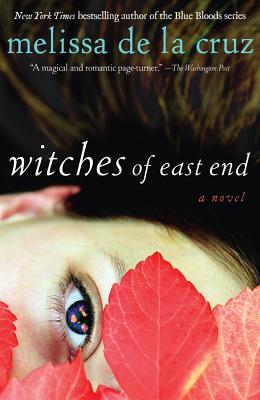 $14.99
Usually Ships in 1-5 Days
Other Books in Series
This is book number 1 in the Witches of East End series.
Staff Reviews
---
Witches of East End is Melissa de La Cruz's first adult paranormal romance novel. Previously, we have known and loved her young adult series such as Blue Bloods and Au Pairs, and now we can continue to love another series. In this novel we meet Joanna and her two daughters Ingrid and Freya. All three are immortal beings with magical gifts who, unfortunately, have been banned from using their talents in the human world. Of course, things are starting to change and the women are growing restless after centuries without their magic. Before long, all three are using their magic in the small town of North Hampton and hoping that the higher-ups don't smite them. Problems arise when a man is murdered and a young girl goes missing. Soon, all of the townspeople are looking at the three women who seem to be helping people but may in fact be witches practicing black magic.
Overall I enjoyed this book, especially the last 80 pages when all of the action and plot started to come together. De La Cruz always does an amazing job of leading up to the next book; I always finish her books wanting to know more about the story. Her mythology had a nice twist to the typical story that we know about goddesses, and I am hoping the other books look at the women's pasts a bit more. Another stregngth of De La Cruz, is her talent to weave the characters' past lives slowly into their current lives. My one complaint is that I wanted more interaction in the beginning between the three characters. Each one went about their own life completely separate from their family members. At times, I felt like I was reading three different books. Towards the end the three women started coming together and I am hopeful that the next book will have them solving problems together, or least have more daily interactions. And needless to say, I do plan to read the next one as soon as she has finished writing it. 
— Jody
Description
---
From the author of the highly addictive and bestselling Blue Bloods series, with almost 3 million copies sold, comes a new novel, Melissa de la Cruz's first for adults, featuring a family of formidable and beguiling witches.

The three Beauchamp women-Joanna and her daughters Freya and Ingrid-live in North Hampton, out on the tip of Long Island. Their beautiful, mist-shrouded town seems almost stuck in time, and all three women lead seemingly quiet, uneventful existences. But they are harboring a mighty secret-they are powerful witches banned from using their magic. Joanna can resurrect people from the dead and heal the most serious of injuries. Ingrid, her bookish daughter, has the ability to predict the future and weave knots that can solve anything from infertility to infidelity. And finally, there's Freya, the wild child, who has a charm or a potion that can cure most any heartache.

For centuries, all three women have been forced to suppress their abilities. But then Freya, who is about to get married to the wealthy and mysterious Bran Gardiner, finds that her increasingly complicated romantic life makes it more difficult than ever to hide her secret. Soon Ingrid and Joanna confront similar dilemmas, and the Beauchamp women realize they can no longer conceal their true selves. They unearth their wands from the attic, dust off their broomsticks, and begin casting spells on the townspeople. It all seems like a bit of good-natured, innocent magic, but then mysterious, violent attacks begin to plague the town. When a young girl disappears over the Fourth of July weekend, they realize it's time to uncover who and what dark forces are working against them.

With a brand-new cast of characters, a fascinating and fresh world to discover, and a few surprise appearances from some of the Blue Blood fan favorites, this is a page-turning, deliciously fun, magical summer read fraught with love affairs, witchcraft, and an unforgettable battle between good and evil.

"A sexy, magical romp, sure to bring de la Cruz a legion of new fans." -- Kelley Armstrong, New York Times bestselling author of The Otherworld series
About the Author
---
Melissa de la Cruz is the author of many bestselling novels, including all the books in the Blue Bloods series and Witches of East End. She lives in Los Angeles, California with her husband and daughter, and continues to be a hitmaker for both adult readers and her YA fans.
Praise For…
---
"A bubbling cauldron of mystery and romance."—People