Heroes of Olympus, The, Book Four The House of Hades ((new cover)) (The Heroes of Olympus #4) (Paperback)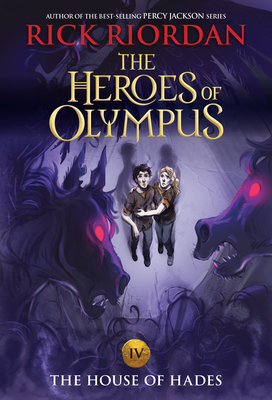 Other Books in Series
This is book number 4 in the The Heroes of Olympus series.
Staff Reviews
---
House of Hades
By Rick Riordan
To begin, his dedication page was to his readers:
"To my wonderful readers:
Sorry about that last cliff-hanger.
Well, no not really. HAHAHAHA.
But seriously, I love you guys."
I love Rick Riordan's sense of humor in his books, and The House of Hades is no exception. There are plenty of serious moments, but the light-hearted moments make it so much more entertaining.
In the previous book, The Mark of Athena, we are left with Percy and Annabeth plunging into the depths of Tartarus. They must reach the doors of Death from Hades' side, while others meet them on the other side of the doors.  Together, the doors must be closed to prevent Gaea's minions from raising her and ruling the earth.  Bob the Titan is back and Percy and Annabeth would not have survived Tartarus if not for him. While Percy and Annabeth face their own challenges head-on in the Underworld, the other demigods must each face their own…and they do so amazingly. Each one grows, some of them you can literally see physical changes. Frank undergoes a tremendous growth spurt, both in stature and as a leader.  It was nice to see him step it up.  I also especially liked that Leo had some time with Calypso; it would be nice to see them back together. And Nico's surprising revelation was totally unexpected; did not see that one coming! The subject matter was handled very well by Riordan.  I cannot wait for the next, and final installment of the Heroes of Olympus. Here's hoping that Riordan continues with Percy and the group in another series.
— Sherry
Description
---
The fourth book in the bestselling Heroes of Olympus series by Rick Riordan, now with fresh and exciting new cover art by graphic novelist Nilah Magruder.
At the conclusion of The Mark of Athena, Annabeth and Percy tumble into a pit leading straight to the Underworld. The other five demigods have to put aside their grief and follow Percy's instructions to find the mortal side of the Doors of Death. If they can fight their way through Gaea's forces, and Percy and Annabeth can survive the House of Hades, then the Seven will be able to seal the Doors from both sides and prevent the giants from raising Gaea. But, Leo wonders, if the Doors are sealed, how will Percy and Annabeth be able to escape?They have no choice. If the demigods don't succeed, Gaea's armies will never die. They have no time. In about a month, the Romans will march on Camp Half-Blood. The stakes are higher than ever in this adventure that dives into the depths of Tartarus.
The accessible and dramatic cover art by graphic novelist Nilah Magruder will attract a new generation of fans.
About the Author
---
Rick Riordan, dubbed "storyteller of the gods" by Publishers Weekly, is the author of five #1 New York Times best-selling middle grade series with millions of copies sold throughout the world: Percy Jackson and the Olympians, The Heroes of Olympus, and the Trials of Apollo, based on Greek and Roman mythology; the Kane Chronicles, based on Ancient Egyptian mythology; and Magnus Chase and the Gods of Asgard, based on Norse mythology. Rick collaborated with illustrator John Rocco on two #1 New York Times best-selling collections of Greek myths for the whole family: Percy Jackson's Greek Gods and Percy Jackson's Greek Heroes. Rick is also the publisher of an imprint at Disney-Hyperion, Rick Riordan Presents, dedicated to finding other authors of highly entertaining fiction based on world cultures and mythologies. He lives in Boston, Massachusetts with his wife and two sons. Follow him on Twitter at @camphalfblood.


Nilah Magruder is a writer and artist based in Los Angeles, California. From her early days she developed an eternal love for three things: nature, books, and animation. She has written and storyboarded for studios such as Disney and DreamWorks. She also illustrates children's books, including the Dactyl Hill Squad series by Daniel Jose Older. Nilah is the author-illustrator of M.L.K., a middle grade graphic novel that won the Dwayne McDuffie Award for Diversity, and How to Find a Fox, a picture book. She has published short fiction in the anthology All Out, in Fireside magazine, and for Marvel Comics. When she's not working, Nilah is watching movies, growing herbs, roller-skating, and fighting her cat for control of her desk chair. Follow her on Twitter at @nilaffle.
Praise For…
---
"In this adventure, victories are hard-won and the essence of bravery nuanced, making the journey as satisfying as it is entertaining."—Kirkus Reviews