Aru Shah and the City of Gold: A Pandava Novel Book 4 (Pandava Series #4) (Hardcover)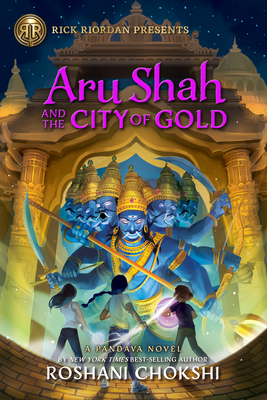 $16.99
Coming Soon - Available for Pre-Order Now
Other Books in Series
This is book number 4 in the Pandava Series series.
Description
---
Best-selling author Rick Riordan Presents the penultimate book in the Pandava series by best-selling author Roshani Chokshi.
Aru Shah and her sisters--including one who also claims to be the Sleeper's daughter--must find their mentors Hanuman and Urvashi in Lanka, the city of gold, before war breaks out between the devas and asuras.
Aru has just made a wish on the tree of wishes, but she can't remember what it was. She's pretty sure she didn't wish for a new sister, one who looks strangely familiar and claims to be the Sleeper's daughter, like her.
Aru also isn't sure she still wants to fight on behalf of the devas in the war against the Sleeper and his demon army. The gods have been too devious up to now. Case in point: Kubera, ruler of the city of gold, promises to give the Pandavas two powerful weapons, but only if they win his trials. If they lose, they won't stand a chance against the Sleeper's troops, which will soon march on Lanka to take over the Otherworld.
Aru's biggest question, though, is why every adult she has loved and trusted so far has failed her. Will she come to peace with what they've done before she has to wage the battle of her life?
Filled with wondrous magic, unforgettable creatures, manipulative gods, and laugh-out-loud dialogue, this fourth book in the Pandava series, a fantasy adventure loosely based on mythology, will leave readers wishing they could read the finale right now.
About the Author
---
Roshani Chokshi (www.roshanichokshi.com) is the author of the instant New York Times best-selling first book in the Pandava series, Aru Shah and the End of Time,and its sequels, Aru Shah and the Song of Death and Aru Shah and the Tree of Wishes. She also wrote the New York Times best-selling YA books The Star-Touched Queen,The Gilded Wolves, and The Silvered Serpents.She studied fairy tales in college and once had a pet luck dragon that looked suspiciously like a Great Pyrenees dog. The Pandava novels were inspired by the stories her grandmother told her as well as Roshani's all-consuming love for Sailor Moon. She lives in the south and says "y'all," but she doesn't really have a Southern accent. Her Twitter handle is @roshani_chokshi.