The Chosen and the Beautiful (Hardcover)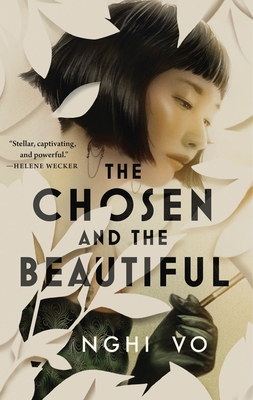 $26.99
Coming Soon - Available for Pre-Order Now
Description
---
"Gatsby the way it should have been written—dark, dazzling, fantastical."—R. F. Kuang

"Luxurious, thrilling, and sexy."—Adrienne Celt

Immigrant. Socialite. Magician.

Jordan Baker grows up in the most rarefied circles of 1920s American society—she has money, education, a killer golf handicap, and invitations to some of the most exclusive parties of the Jazz Age. She's also queer and Asian, a Vietnamese adoptee treated as an exotic attraction by her peers, while the most important doors remain closed to her.

But the world is full of wonders: infernal pacts and dazzling illusions, lost ghosts and elemental mysteries. In all paper is fire, and Jordan can burn the cut paper heart out of a man. She just has to learn how.

Nghi Vo's debut novel The Chosen and the Beautiful reinvents this classic of the American canon as a coming-of-age story full of magic, mystery, and glittering excess, and introduces a major new literary voice.
About the Author
---
Nghi Vo was born in central Illinois, and she retains a healthy respect for and love of corn mazes, scarecrows, and fifty-year floods. These days, she lives on the shores of Lake Michigan, which is less a lake than an inland sea that she is sure is just biding its time. Her short fiction has appeared in Strange Horizons, Uncanny Magazine, Lightspeed, Beneath Ceaseless Skies, PodCastle, and Fireside, and her short story "Neither Witch nor Fairy" made the 2014 Otherwise (formerly Tiptree) Award Honor List. Nghi mostly writes about food, death, and family, but sometimes detours into blood, love, and rhetoric. She believes in the ritual of lipstick, the power of stories, and the right to change your mind.
Praise For…
---
"Nghi Vo's stellar transformation of The Great Gatsby recasts the 'careless' Jordan Baker as a woman of depth and sharpness, a socialite forced to live in the margins of others' lives. In Vo's telling, the glitter of Gatsby's parties conceals a sinister struggle—one where the players must survive on charms both literal and figurative, and the line between the invented and the real is endlessly blurred. Like Jordan's own paper creations, The Chosen and the Beautiful captivates with its artistry and its power."—Helene Wecker, author of The Golem and the Jinni

"The Chosen and the Beautiful is gorgeous and gripping, shining with language that shows us all the facets and dangers of yearning. Nghi Vo subverts and expands the possibilities of an American story, and magic is in the marrow of every sentence. I'm in awe of this book's expansive imagination and its exploration of what it means to discover desire, make your own myths, and define your belonging."—K-Ming Chang, author of Bestiary and a National Book Foundation 5 Under 35 Honoree

"Luxurious, thrilling, and sexy, Nghi Vo's debut novel dives into the world of The Great Gatsby and wears it like a second skin. A shapeshifter of a book that had me hypnotized from the first pages, The Chosen and the Beautiful brings new intensity to a story you thought you knew."—Adrienne Celt, author of Invitation to a Bonfire

"Decadent. Visual. Imaginative. Genius. Not enough words to praise this page-turning novel of sorcery, infernal compacts, and enchanted elixirs, in an altogether different 1920s New York. Nghi Vo snips apart, then magically weaves together a familiar story in a wholly original and decidedly unfamiliar way. Redo all the classics. And do them like this!"—P. Djèlí Clark, winner of the Alex, Locus, and Nebula Awards and author of Ring Shout

"A sumptuous novel that tangles with race, magic, sexuality, and class. Nghi Vo creates a world that drips with champagne and magic, where outsider's views are the only ones that matter, and it's impossible to be sure who is or is not other. It's bold to play in the realm of The Great Gatsby and Vo's acerbic Jordan Baker is the perfect woman to do it."—Erika Swyler, author of The Book of Speculation

"This book is Gatsby the way it should have been written–dark, dazzling, and fantastical. Of course Jordan Baker should have been the main character. Of course everyone should have been messing with magic. Vo has created a perfect response to Fitzgerald in tone, voice, and theme."—R. F. Kuang, winner of the Astounding Award and author of The Poppy War

"The Chosen and the Beautiful is a subversive, sexy, atmospheric, sweltering, gin-soaked, Hell-haunted vision of Gatsby's New York, with prose that will pull you under. I loved it."—Alix E. Harrow, winner of the Hugo Award and author of The Ten Thousand Doors of January

"Crisp as paper and delirious as a fever dream, this is a redrawn Gatsby daubed in gold leaf and lip rouge and blood. Nghi Vo gives a freshly imagined Jordan Baker her due, while infusing her glittering New York with a bottomless magical menace that feels both excitingly new and cosmically true to Fitzgerald's original."—Melissa Albert, New York Times bestselling author of The Hazel Wood

"I adore this Jordan and her shimmering rage, the way it laces all her party glamour. It adds a queer vitality to this story that really resonates with me, her flamboyance being so rageful. The prose is like a bite of caramel that rips out your teeth. It's seething, creamy. It has a bloody taste."—Hannah Abigail Clarke, bestselling author of The Scapegracers