Hellbent: An Orphan X Novel (Hardcover)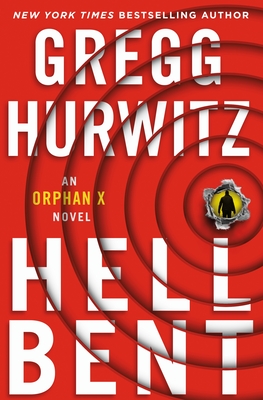 Other Books in Series
This is book number 3 in the Orphan X series.
Description
---
Evan Smoak—government assassin gone rogue—returns in Hellbent, an engrossing, unputdownable thriller from Gregg Hurwitz, the latest in his #1 international bestselling Orphan X series.
Taken from a group home at age twelve, Evan Smoak was raised and trained as an off-the-books government assassin: Orphan X. After he broke with the Orphan Program, Evan disappeared and reinvented himself as the Nowhere Man, a man spoken about only in whispers and dedicated to helping the truly desperate.
But this time, the voice on the other end is Jack Johns, the man who raised and trained him, the only father Evan has ever known. Secret government forces are busy trying to scrub the remaining assets and traces of the Orphan Program and they have finally tracked down Jack. With little time remaining, Jack gives Evan his last assignment: find and protect his last protégé and recruit for the program.
But Evan isn't the only one after this last Orphan—the new head of the Orphan Program, Van Sciver, is mustering all the assets at his disposal to take out both Evan (Orphan X) and the target he is trying to protect.
About the Author
---
GREGG HURWITZ is the New York Times bestselling author of more than a dozen novels, including the #1 international bestseller Orphan X, the first in a series of thrillers featuring Evan Smoak. He has also written young adult novels: The Rains and its sequel, The Last Chance. Hurwitz's books have been shortlisted for numerous literary awards, graced top ten lists, and have been translated into twenty-eight languages.
Hurwitz is also a New York Times bestselling comic book writer, having penned stories for Marvel (Wolverine, The Punisher) and DC (Batman). Additionally, he has written screenplays for many major studios and written, developed, and produced television for various networks.
Hurwitz resides in Los Angeles with two Rhodesian ridgebacks.
Praise For…
---
"Hellbent is carved from the same cloth of not only Lee Child, but also David Baldacci, and it proves Hurwitz to be every bit the equal of both of them. This is raw, visceral action writing layered with rare depth and emotion, making Hellbent an early contender for one of the best thrillers of the year." —Providence Journal

"A beautifully crafted story that builds on the previous two books in surprising and unsettling ways." —Winnipeg Free Press
"Hellbent is Gregg Hurwitz firing on all cylinders." —The Guardian (UK)
"Must read!" —New York Post
"Where there's Smoak, there's firepower. The only thing better than a great book is a series in which each book is exponentially better than the last. It's not a feat that can be pulled off by just any author, but it's viscerally powerful when done right and Hellbent is as right as it gets." —The Oklahoman
"This is a great novel... do not miss this one." —Booklist (starred review)
"As well-done as the rest of the series and bloody good fun." —Kirkus Reviews
"This one is personal... fans of the first two books will enjoy this nail-biting, twisty thriller." —Library Journal