Fear the Darkness: A Novel (Brigid Quinn Series #2) (Paperback)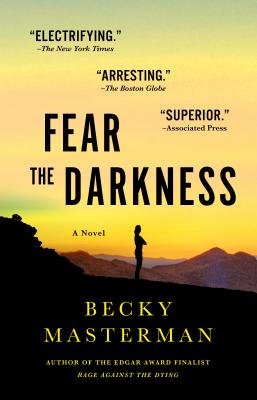 $17.59
Usually Ships in 1-5 Days
Other Books in Series
This is book number 2 in the Brigid Quinn Series series.
Description
---
Finalist for the New Mexico/Arizona Book Award
It's hard to recognize the devil when his hand is on your shoulder. That's because a psychopath is just a person before he becomes a headline….Psychopaths have preferences for Starbucks or Dunkin' Donuts coffee, denim or linen, Dickens or…well, you get the point.
Ex-FBI agent Brigid Quinn has seen more than her share of psychopaths. She is ready to put all that behind her, building a new life in Tucson with a husband, friends, and some nice quiet work as a private investigator. Sure, she could still kill a man half her age, but she now gets her martial arts practice by teaching self-defense at a women's shelter.
But sometimes it isn't that simple. When her sister-in-law dies, Brigid take in her seventeen-year-old niece, Gemma Kate. There has always been something unsettling about Gemma-Kate, but family is family. Which is fine, until Gemma-Kate starts taking an unhealthy interest in dissecting the local wildlife.
Meanwhile, Brigid agrees to help a local couple by investigating the death of their son—which also turns out not to be that simple. Her house isn't the sanctuary it used to be, and new dangers—including murder—seem to lurk everywhere. Brigid starts to wonder if there is anyone she can trust, or if the devil has simply moved closer to home.
Becky Masterman's Fear the Darkness is the masterful follow-up to the Edgar Award and CWA Gold Dagger finalist Rage Against the Dying.
About the Author
---
BECKY MASTERMAN, who was an acquisitions editor for a press specializing in medical textbooks for forensic examiners and law enforcement, received her M.A. in creative writing from Florida Atlantic University. Her debut thriller, Rage Against the Dying, was a finalist for the Edgar Award for Best First Novel, the CWA Gold Dagger Award for Best Crime Novel of 2013, as well as the Macavity, Barry, and Anthony awards. She won the Tony Hillerman Fiction Award for A Twist of the Knife. Becky lives in Tucson, Arizona, with her husband.
Praise For…
---
"Electrifying...another strong display of the author's ingenuity. Ms. Masterman once again shows herself to be an expert manipulator of readers' expectations." —Janet Maslin, The New York Times
"Idiosyncratic and engaging. . .an action-filled finale that pulls the rug out from beneath expectations." —The Wall Street Journal
"[A] superior series. . .The strong voice that Masterman established for Brigid in Rage Against the Dying excels in this sequel." —The Associated Press
"Brigid Quinn is a vigorous narrator. . . with an arresting voice that keeps her audience close, without shying away at vulnerable moments. . . .Resourceful, direct, and determined--especially in the face of pure, murderous evil--in her second outing, Quinn remains a fun force to be reckoned with." —The Boston Globe
"It's refreshing to spend time with Brigid. . . .She's flawed and stubborn, but you sure would want her on your side in any kind of battle. " —The Plain Dealer
"Tough, cunning Brigid Quinn will certainly appeal to thriller readers who favor a female perspective, but her unwavering determination to fight for even the ugliest forms of justice will also draw in fans of Michael Connelly and Dennis Lehane." —Booklist
"Pulse-quickening...scorching...invigorating." —Janet Maslin, The New York Times, on Rage Against the Dying
"When the nominations are made for the best crime-novel debut of the year, we should be hearing [Masterman's] name again." —The Washington Post on Rage Against the Dying
"One of the most memorable FBI agents since Clarice Starling." —Publishers Weekly (starred, Pick of the Week) on Rage Against the Dying
"Wow. An absolute pleasure. Chilling, smart...and what a voice." —Gillian Flynn, author of Gone Girl, on Rage Against the Dying
"Masterman lives up to her name in this masterly combination of compelling character and plot." —Library Journal (starred) on Rage Against the Dying