Breakaway: A Novel (Hardcover)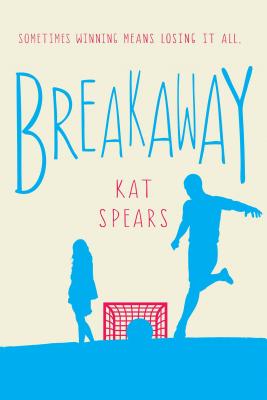 Description
---
When Jason Marshall's younger sister passes away, he knows he can count on his three best friends and soccer teammates—Mario, Jordie, and Chick—to be there for him. With a grief-crippled mother and a father who's not in the picture, he needs them more than ever. But when Mario starts hanging out with a rough group of friends and Jordie finally lands the girl of his dreams, Jason is left to fend for himself while maintaining a strained relationship with troubled and quiet Chick. Then Jason meets Raine, a girl he thinks is out of his league but who sees him for everything he wants to be, and he finds himself pulled between building a healthy and stable relationship with a girl he might be falling in love with, grieving for his sister, and trying to hold onto the friendships he has always relied on.
A witty and emotionally moving tale of friendship, first love, and loss, Breakaway is Kat Spears at her finest.
About the Author
---
KAT SPEARS has worked as a bartender, museum director, housekeeper, park ranger, business manager, and painter (not the artistic kind). She holds an M.A. in anthropology, which has helped to advance her bartending career. She lives in Richmond, Virginia with her three freeloading kids. She is the author of Sway, Breakaway, and The Boy Who Killed Grant Parker.
Praise For…
---
"There's not a single canned emotion to be found; each boy's pain is visceral and true to his character. Readers will be hard-pressed to find a more realistic portrait of friends finding themselves while losing one another. A rare study of growing pains that gives equal weight to humor and hardship." —Kirkus Reviews (Starred Review)
"A painfully honest and powerful depiction of the changing nature of friendships in the face of hardship and an exploration of what it means 'to be human and alive.'" —Booklist (Starred Review)
"As in her debut novel, Sway, Spears showcases a talent for creating believably flawed characters seeking connection in the aftermath of tragedy." —Publishers Weekly (Starred Review)
"This sad yet hopeful romance will appeal to readers of Steven Chbosky's The Perks of Being a Wallflower and Jay Asher's Thirteen Reasons Why." —School Library Journal