Revenge, Ice Cream, and Other Things Best Served Cold (A Broken Hearts & Revenge Novel #2) (Hardcover)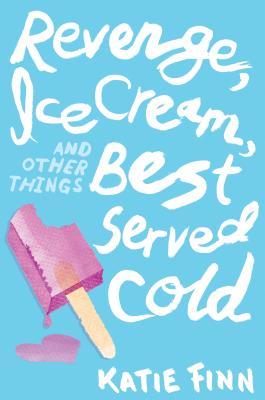 Email or call for price
Special Order - Subject to Availability
Staff Reviews
---
Revenge, Ice Cream, and Other Things Best Served Cold by Katie Finn is book two in the Broken Hearts and Revenge series. Gemma has sworn to get revenge on Hallie but Hallie is proving to be harder to beat than she originally thought. To make things even more challenging, Teddy (her ex-boyfriend who is currently dating Hallie) is in town and Gemma's long time crush Ford is visiting his father. As Gemma and Hallie continue to spar (often in outlandish and devious ways), Gemma finds her summer being much more interesting than a quiet time lounging on the beach.
I love this series! First of all, Finn's titles are so witty and whimsical. They perfectly capture the plot and the playful nature of the story. The characters are entertaining and believable. I love how hard Gemma tries to correct the mistakes of her past even when she knows it is next to impossible. You get lost in the chaos of the story and filled with a sense of friendship and new love. This is an absolutely perfect summer read.
— Jody
Description
---
After the humiliating events on the 4th of July, Gemma's trying to grapple with the fact that Hallie knew her true identity all summer, and that she was the one who stole Teddy from her.
Gemma vows revenge, but things immediately get more complicated than she planned. Her dad forces her to get a job, and the only one she can find involves scooping ice cream all day. Ford, Gemma's longtime crush, has arrived in the Hamptons, and is cuter than ever. Josh is refusing to speak to her after finding out she lied to him. And to top it all off, Teddy is back in the picture, and closer to home than Gemma would like.
Gemma and Hallie find themselves locked in an escalating revenge cycle involving everything from strawberry syrup to stolen identities. But just when Gemma thinks she has the upper hand, the biggest bombshell of all is dropped. And it's one that threatens to change her life forever.
About the Author
---
Katie Finn is the author of the Top 8 trilogy. She's never plotted revenge on anyone (who didn't deserve it) but has been known to assume another identity. To this day, she and Morgan Matson have never been seen in the same room. She lives in Los Angeles, in a house she wishes was a lot closer to the beach.
Praise For…
---
"Teens will relate to the relationship struggles, and will find the next big revenge idea even more entertaining than the last. Gemma's perspective noticeably shifts from the beginning of the story to the end, allowing readers to gain valuable insights pertaining to the importance of communication and trust in developing strong relationships with friends as well as family." —VOYA