Broken Hearts, Fences and Other Things to Mend (A Broken Hearts & Revenge Novel #1) (Hardcover)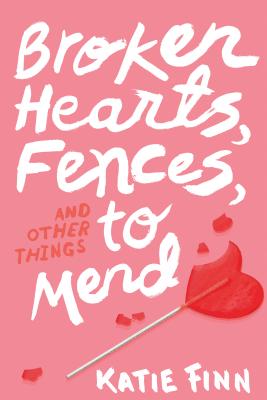 Other Books in Series
This is book number 1 in the A Broken Hearts & Revenge Novel series.
Staff Reviews
---
Katie Finn's novel Broken Hearts, Fences and Other Things to Mend is a great contemporary YA read.  Gemma's summer isn't starting out like she had planned.  Instead of saving the world, she is picking up the pieces of her broken heart and heading to the Hamptons to spend the summer with her dad.  Realizing that she is mourning the end of her romantic relationship with Teddy for a strict one year period (since that is what the magazines have determined to be the proper amount of time) she plans to stay close to the house and keep her head down.  That is until she meets Josh who is sweet, funny, and somehow makes her think less about Teddy.  Of course the kicker is, she already knows Josh and his sister Hallie from when she was younger and things did not end pleasantly between her and Hallie.  Determine to fix things from the past, Gemma finds her summer turning into a Shakespeare play with all of the mistaken identities.
Broken Hearts, Fences and Other Things to Mend is the perfect summer read.   Finn creates a fun atmosphere with beach parties, babysitting and new love.  It was great to just get lost in this world.  It was fun to see how hard Gemma worked to try and hide her true identity from Hallie and Josh.  She has such good intentions, but you just have this feeling that everything is going to crash down around her.   Although that didn't stop you from hoping that it would all work out.  Another thing that I liked about this book was that all of the characters are charming and likable.  They just end up in crazy situations.  Without giving anything away, the end twists are awesome!  I really didn't see some of it coming and was left shocked and so excited to read book two (Revenge, Ice Cream and Other Things Best Served Cold currently planned for May 2015).
— Jody
Description
---
In Broken Hearts, Fences and Other Things to Mend by Katie Finn, Gemma had her summer all planned out, but it takes sharp turn when she gets dumped and finds herself back in the Hamptons after a five-year absence.
Being there puts her at risk of bumping into Hallie, her former best friend (that is, before Gemma ruined her life). But people don't hold grudges forever. Do they?
Gemma intends on making amends, but a small case of mistaken identity causes the people she knew years ago—including Hallie and her dreamy brother Josh—to believe she's someone else. As though the summer wasn't complicated enough already.
Can Gemma keep up the charade? Or will she be found out by the very people she's been hiding from?
About the Author
---
Katie Finn is the author of the Top 8 trilogy. She's never plotted revenge on anyone (who didn't deserve it) but has been known to assume another identity. To this day, she and Morgan Matson have never been seen in the same room. She lives in Los Angeles, in a house she wishes was a lot closer to the beach.
Praise For…
---
"Intriguing premise of revenge on a longtime foe." —School Library Journal
"Finn offers up plenty of teen angst, awkward situations, pool and beach parties, a bad breakup, a burgeoning romance, revenge, and a hole that keeps getting deeper in Gemma's quest to prove she's a nice person." —Booklist
"There is much for teen readers to like here: snappy and snippy dialogue, embarrassing situations, blossoming romance, pool parties and the constant tension of maintaining a secret." —Kirkus Reviews
"Finn (who also writes for teens as Morgan Matson) presents a mostly lighthearted and playful story of mistaken identity and revenge." —Publishers Weekly