My Name Is Resolute: A Novel by the Author of Sarah's Quilt (Hardcover)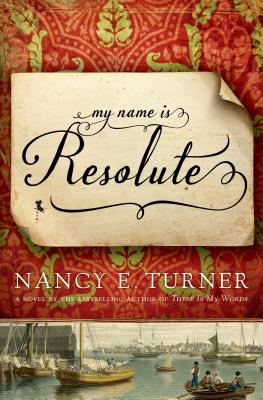 Description
---
One of Book Riot's top 100 Must-Read Books of American Historical Fiction!
Nancy Turner burst onto the literary scene with her hugely popular novels These Is My Words, Sarah's Quilt, and The Star Garden. Now, Turner has written the novel she was born to write, this exciting and heartfelt story of a woman struggling to find herself during the tumultuous years preceding the American Revolution.
The year is 1729, and Resolute Talbot and her siblings are captured by pirates, taken from their family in Jamaica, and brought to the New World. Resolute and her sister are sold into slavery in colonial New England and taught the trade of spinning and weaving. When Resolute finds herself alone in Lexington, Massachusetts, she struggles to find her way in a society that is quick to judge a young woman without a family. As the seeds of rebellion against England grow, Resolute is torn between following the rules and breaking free. Resolute's talent at the loom places her at the center of an incredible web of secrecy that helped drive the American Revolution. Heart-wrenching, brilliantly written, and packed to the brim with adventure, My Name is Resolute is destined to be an instant classic.
About the Author
---
Nancy E. Turner was born in Dallas, Texas, and currently lives with her husband, John, in Tucson, Arizona. She started college when her children were grown and completed a bachelor's degree in fine arts at the University of Arizona with a triple major in creative writing, music, and studio art. During the seven years it took to complete her degree, Turner is the author of the novels, These Is My Words, The Water and the Blood and Sarah's Quilt, her sequel to the bestselling These Is My Words.
Praise For…
---
"Every page of Turner's engrossing and fascinating work is better than the last. Not only historical fiction fans will love this beautifully written and compelling novel." —Library Journal
"…the author convincingly conveys a pivotal time in American history and provides a rewarding reading experience. A fitting story about resiliency, ingenuity and heroism." —Kirkus
"Turner has drawn a character whose trials, loves, losses and achievements Turner fans will happily follow." —Tucson Weekly
"An evocative page turner...Nancy Turner is a brilliant voice, an author to look out for." —Mary Sharratt, author of Illuminations: A Novel of Hildegard von Bingen
"Nancy Turner's novel, MY NAME IS RESOLUTE, is astonishing in its attention to detail and in the authenticity of its narrative. But what's more compelling is the heartfelt accounting of a remarkable woman who survives servitude, loss of home and family, and who embodies the courage of the settlers who transformed a wilderness into a bold new country." —Kathleen Kent, author of The Heretic's Daughter, The Outcasts, and The Traitor's Wife
"Fiercely independent, stubborn and sometimes endearingly naïve, Resolute is one of those magical, insistent characters who lives on in your head and your heart long past the final page. Nancy Turner is one of my favorite storytellers: I'm always hooked from her first sentence and sorry to reach the last. In MY NAME IS RESOLUTE, she brings colonial America to life, endowing Resolute with her signature mix of humor, spunk, courage, common sense, and passion. From pirate attacks and Indian abduction to the shuttling of a loom, Turner is equally marvelous with larger-than-life heroics and the quiet joys of hearth and home. Sarah Prine has a worthy "sister" at last – this book was totally worth the wait!" —Jennifer Lee Carrell, author of Interred with Their Bones and Haunt Me Still
"I fell in love with Resolute Talbot early in the first chapter, even before she was kidnapped as a child by pirates in Jamaica and launched into her riveting journey from captivity to independence. Nancy Turner is a stunning historical researcher who has imbued Resolute with a haunting narrator's voice, seeded with language and sensibilities of another time. The details throughout--from spinning wheel jargon to military intrigue--create a sense of 18th century, when the colonies were at their breaking point. Resolute represents the women who bravely and quietly contributed to the Revolutionary War effort, and were all but forgotten until now. This is historical fiction at its best; alive, exciting and profoundly moving. Resolute is a revelation, Nancy Turner is a master." —Bonnie Marson, author of Sleeping with Schubert