The Chronicles of Downton Abbey: A New Era (The World of Downton Abbey) (Hardcover)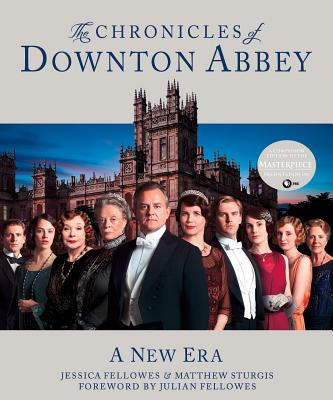 $32.99
Usually Ships in 1-5 Days
Description
---
The Great War has ended, but Downton Abbey is far from peaceful...
"Americans can't get enough of 'Downton Abbey,'" said The Boston Globe. As Season 3 of the award-winning TV series opens, it is 1920 and Downton Abbey is waking up to a world changed forever by World War I. New characters arrive and new intrigues thrive as the old social order is challenged by new expectations.
In this new era, different family members abound (including Cora's American mother, played by Shirley MacLaine) and changed dynamics need to be resolved: Which branch of the family tree will Lord Grantham's first grandchild belong to? What will become of the servants, both old and new?
The Chronicles of Downton Abbey, carefully pieced together at the heart and hearth of the ancestral home of the Crawleys, takes us deeper into the story of every important member of the Downton estate.This lavish, entirely new book from Jessica Fellowes focuses on each character individually, examining their motivations, their actions, and the inspirations behind them. An evocative combination of story, history, and behind-the-scenes drama, it will bring fans even closer to the secret, beating heart of the house.
About the Author
---
JESSICA FELLOWES is the
New York Times
and
Globe and Mail
bestselling author of
The World of Downton Abbey.
Formerly the Deputy Editor of
Country Life,
she has also been a columnist for the
London Paper.
Jessica also writes for the
Daily Telegraph, Telegraph Weekend, The Lady
and
Sunday Times Style,
and lives with her family in London.
MATTHEW STURGIS is a writer and critic who has written for
Harpers & Queen,
The Sunday Telegraph,
and
The Independent on Sunday
. He is the author of
Passionate Attitudes: the English Decadence of the 1890s
and the highly-praised
Aubrey Beardsley.
He lives in London.
Julian Fellowes is the Emmy Award-winning writer and creator of Downton Abbey and the winner of the 2001 Academy Award for Best Original Screenplay for Gosford Park. He also wrote the screenplays for Vanity Fair and The Young Victoria. He is the bestselling author of Snobs and Past Imperfect. His other works include The Curious Adventure of the Abandoned Toys and the book for the Disney stage musical of Mary Poppins.
As an actor, his roles include Lord Kilwillie in the BBC Television series Monarch of Glen and the 2nd Duke of Richmond in Aristocrats, as well as appearances in the films Shadowlands, Damage, and Tomorrow Never Dies.
He lives in London and Dorset, England.