Of Poseidon (The Syrena Legacy #1) (Paperback)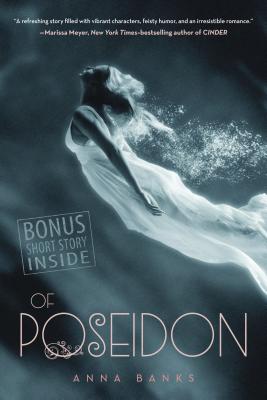 $10.99
Usually Ships in 1-5 Days
Staff Reviews
---
Anna Banks' first novel in the Syrena Legacy, Of Poseidon, is a unique new look at the merfolk mythology.  Emma's summer didn't exactly go as planned.  She had a tragic accident occur on her vacation and is still grieving, but to make things worse the new student is the hot boy that she literally ran into on her vacation.  Now he is following her around claiming that he knows a secret about her.  Emma might be fine with Galen being around all the time, but in order to discover everything about this secret she has to pretend to be dating him.  How awkward.
Banks does a great job of showing how confusing our everyday world can be to someone who didn't grown up on land.  She also has a lot of fun with showing the Syrena culture and how it is similar to humans, but at the same time so very different.  I really enjoyed all of the fish insults, it was quiet clever, and really, what other reference would a merperson use?  I love the dynamic relationship between Galen and Emma and their attempt to deny their feelings.  Banks showed her characters to be passionate, clever, and at times very suborn.  All and all making for a fun new couple to read about.  Be warned, as soon as you finish book one you will want to read Of Triton, which thankfully is already available.
— Jody
Description
---
Galen, a Syrena prince, searches land for a girl he's heard can communicate with fish.
It's while Emma is on vacation at the beach that she meets Galen. Although their connection is immediate and powerful, Galen's not fully convinced that Emma's the one he's been looking for.
That is, until a deadly encounter with a shark proves that Emma and her Gift may be the only thing that can save his kingdom. He needs her help—no matter what the risk.
Of Poseidon is the start of The Syrena Legacy series by Anna Banks.
Books by Anna Banks:

The Syrena Legacy
Of Poseidon (Book 1)
Of Triton (Book 2)
Of Neptune (Book 3)
Joyride
The Nemesis duology
Nemesis (Book 1)
Ally (Book 2)
About the Author
---
Anna Banks grew up in a small town called Niceville (yes, really). She now lives in Crestview, Florida, with her husband and their daughter. She is the author of The Syrena Legacy series: Of Poseidon, Of Triton, and Of Neptune.
Praise For…
---
"[Has] a great deal of charm." —Publishers Weekly
"Intriguing." —School Library Journal
"A refreshing story filled with vibrant characters, feisty humor, and an irresistible romance. This story of star-crossed lovers in a luscious coastal setting brings new life to the age-old myth of merfolk and left me swooning for more!" —Marissa Meyer, New York Times–bestselling author of Cinder