The Forgetting Tree (Paperback)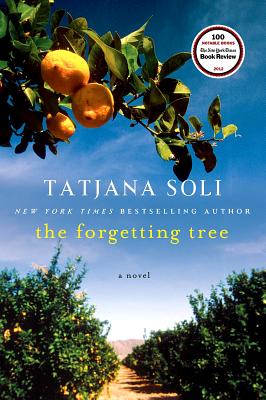 Description
---
A "New York Times" Notable Book
From Tatjana Soli, "The New York Times" bestselling author of "The Lotus Eaters," comes a breathtaking novel of a California ranching family, its complicated matriarch, and the enigmatic caretaker who may destroy them
When Claire Nagy marries Forster Baumsarg, the only son of prominent California citrus ranchers, she knows she's consenting to a life of hard work, long days, and worry-fraught nights. But her love for Forster is so strong, she turns away from her literary education and embraces the life of the ranch, succumbing to its intoxicating rhythms and bounty until her love of the land becomes a part of her. Not even the tragic, senseless death of her son Joshua at kidnappers' hands, her alienation from her two daughters, or the dissolution of her once-devoted marriage can pull her from the ranch she's devoted her life to preserving.
But despite having survived the most terrible of tragedies, Claire is about to face her greatest struggle: an illness that threatens not only to rip her from her land but take her very life. And she's chosen a caregiver, the inscrutable, Caribbean-born Minna, who may just be the darkest force of all.
Haunting, tough, triumphant, and profound, " The Forgetting Tree" explores the intimate ties we have to one another, the deepest fears we keep to ourselves, and the calling of the land that ties every one of us together.
About the Author
---
TATJANA SOLI lives with her husband in Southern California. Her New York Times bestselling debut novel, The Lotus Eaters, was a finalist for the Los Angeles Times Book Prize, a New York Times Notable Book, and won the 2011 James Tait Black Prize.
Praise For…
---
Praise for The Forgetting Tree 
"Tatjana Soli's elegant and sensuous prose will keep you spellbound." —Maria Semple, bestselling author of Where'd You Go, Bernadette?
"Daring... haunting... A remote citrus ranch can be a crossroads where cultures collide, and those collisions can be life-changing for everyone involved." —Jane Smiley, New York Times Book Review
"The story here is complex and expansive, and Soli's prose is reminiscent of Eudora Welty's. Like that writer, Soli's sentences are tied to the land, and the effect is that as much as this is a story about people, it is also a story about place and the imprint that each makes on the other." —The Daily Beast
"A lush, haunting novel for readers who appreciate ambiguity, this work should establish Soli as a novelist with depth and broad scope." —Library Journal
"Soli has again created characters readers will love and care about. She does so with deceptively simple grace: Their yearnings breeze right into your life... The Forgetting Tree is a journey worth taking." —Book Page
"A lush novel with two fascinating, complicated characters at its heart." —Booklist
"Soli, who made a splash with her debut, The Lotus Eaters, will captivate readers again with this twisting, intriguing tale of a grieving California woman…With her knack for beautiful prose and striking detail, this is a solid follow-up to her debut." —Publishers Weekly