True Sisters: A Novel (Paperback)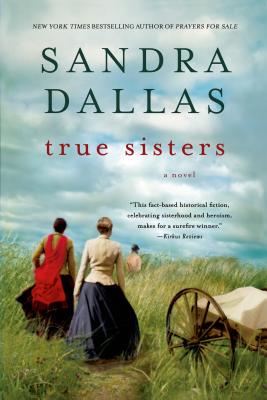 $19.00
Usually Ships in 1-5 Days
Description
---
In a novel based on true events, New York Times bestselling author Sandra Dallas delivers the story of four women---seeking the promise of salvation and prosperity in a new land---who come together on a harrowing journey.

In 1856, Mormon converts, encouraged by Brigham Young himself, and outfitted with two-wheeled handcarts, set out on foot from Iowa City to Salt Lake City, the promised land. The Martin Handcart Company, a zealous group of emigrants headed for Zion, is the last to leave on this 1,300-mile journey. Earlier companies arrive successfully in Salt Lake City, but for the Martin Company the trip proves disastrous. True Sisters tells the story of four women whose lives will become inextricably linked as they endure unimaginable hardships, each one testing the boundaries of her faith and learning the true meaning of survival and friendship along the way: Nannie, who is traveling with her sister and brother-in-law after being abandoned on her wedding day; Louisa, who's married to an overbearing church leader who she believes speaks for God; Jessie, who's traveling with her brothers, each one of them dreaming of the farm they will have in Zion; and Anne, who hasn't converted to Mormonism but who has no choice but to follow her husband since he has sold everything to make the trek to Utah.

Sandra Dallas has once again written a moving portrait of women surviving the unimaginable through the ties of female friendship.
About the Author
---
Award-winning author Sandra Dallas was dubbed "a quintessential American voice" by Jane Smiley, in Vogue Magazine. She is the author of The Bride's House, Whiter Than Snow, Prayers for Sale and Tallgrass, among others. Her novels have been translated into a dozen languages and optioned for films. She is the recipient of the Women Writing the West Willa Award and the two-time winner of the Western Writers of America Spur Award. For 25 years, Dallas worked as a reporter covering the Rocky Mountain region for Business Week, and started writing fiction in 1990. She lives with her husband in Denver, Colorado.
Praise For…
---
"A born storyteller, Dallas excels not only at plot but also at peopling her novels with memorable individuals." —Richmond Times Dispatch

"Dallas offers a richly drawn fictional account of tragic true events." —Booklist

"Dallas tells the story of strong women and the beautiful relationships they can create even in impossible circumstances a memorable story." —Publishers Weekly

"This fact-based historical fiction, celebrating sisterhood and heroism, makes for a surefire winner." —Kirkus Reviews

"Whiter Than Snow is a fast and engrossing novel that will capture readers' hearts from the first few pages." —Deseret News on Whiter Than Snow

"Her sense of time and place is pitch-perfect and her affection for her characters infectious." —Kirkus Reviews on Whiter Than Snow

"Whiter Than Snow adds to Dallas's luster as a superb storyteller whose work is grounded in the redemptive power of kindness." —Richmond Times-Dispatch on Whiter Than Snow

"This satisfying novel will immediately draw readers in and the unexpected twists will keep them hooked through to the bittersweet denouement." —Publishers Weekly on Prayers for Sale

"Forgiveness and redemption are the themes of this gentle novel about hardscrabble lives." —Kirkus Reviews on Prayers for Sale

"The idea of selling prayers conjures images of pre-Reformation Catholicism or, at the very least, stops you in your tracks to think a bit. Like the lives narrated, this novel runs the gamut of heartache, hardship, and happiness as Dallas skillfully weaves past into present and surprises everyone at the end. Fans of Lee Smith, Sue Monk Kidd, and Kaye Gibbons will love this book." —Booklist (starred review) on Prayers For Sale

"Putting down a Sandra Dallas read is nearly impossible. This book is filled with secrets revealed as the reader learns about the lives of the characters. The secret revealed in the final pages is top-notch." —Daily Camera (Boulder, Colorado) on Prayers for Sale

"Prayers for Sale is a finely crafted tale that celebrates women and their resiliency." —Deseret News on Prayers for Sale

"With a perfect blend of masterful storytelling, sympathetic and realistic characters and prose as crisp as a Colorado creek, Dallas again spins a timeless tale of love and tenacity, tenderness and redemption. And "The Bride's House" is ultimately a story of the confines of legacy and the fulfillment that can come when those chains are broken." —Richmond Times Dispatch on The Bride's House

"Putting down a Sandra Dallas novel is nearly impossible." —Daily Camera on The Bride's House