Sharp Objects: A Novel (Paperback)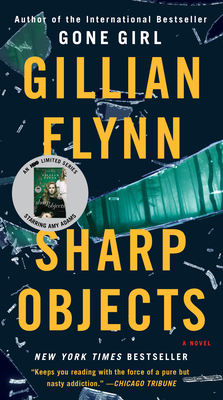 Staff Reviews
---
Gillian Flynn's Sharp Objects is sure to grab your attention from the very first page.  Camille, a journalist,  is asked to go back to her hometown and report on the murder of two preteen girls.  For someone just getting out of the psych hospital this is asking a lot.  She has been estranged from her mother and half-sister for years and now she must go home and face them.
Flynn's writing is great and has a wonderful pace that keeps you turning the pages.  I really liked all of the small town drama and realizing that nothing in the past stays in past.  Eventually, we all have to face the consequences of our deeds.  I loved the psychological suspense of Gone Girl, but I felt like this book was even better.  A must read for any thriller fan.
— Tricia
Description
---
NOW AN HBO® LIMITED SERIES STARRING AMY ADAMS, NOMINATED FOR EIGHT EMMY AWARDS, INCLUDING OUTSTANDING LIMITED SERIES

FROM THE #1 NEW YORK TIMES BESTSELLING AUTHOR OF GONE GIRL

Fresh from a brief stay at a psych hospital, reporter Camille Preaker faces a troubling assignment: she must return to her tiny hometown to cover the murders of two preteen girls. For years, Camille has hardly spoken to her neurotic, hypochondriac mother or to the half-sister she barely knows: a beautiful thirteen-year-old with an eerie grip on the town. Now, installed in her old bedroom in her family's Victorian mansion, Camille finds herself identifying with the young victims—a bit too strongly. Dogged by her own demons, she must unravel the psychological puzzle of her own past if she wants to get the story—and survive this homecoming.

Praise for Sharp Objects

"Nasty, addictive reading."—Chicago Tribune
 
"Skillful and disturbing."—Washington Post
 
"Darkly original . . . [a] riveting tale."—People
About the Author
---
GILLIAN FLYNN is the author of the #1 New York Times bestseller Gone Girl and the New York Times bestsellers Dark Places and Sharp Objects. A former writer and critic for Entertainment Weekly, her work has been published in 42 countries. She lives in Chicago with her husband and son.
Praise For…
---
"A first novel that reads like the accomplished work of a long-time pro, the book draws you in and keeps you reading with the force of a pure but nasty addiction...Flynn's book goes deeper than your average thriller. It has all the narrative drive of a serious pop novel and much of the psychological complexity of a mainstream character study. All in all, a terrific debut."
– Alan Cheuse, The Chicago Tribune

"A compulsively readable psychological thriller that marks [a] dazzling debut...[Flynn] has written a clever crime story with astonishing twists and turns, and enough suspense for the most demanding fans of the genre. But it is the sensitive yet disturbing depiction of her heroine that makes this an especially engrossing story...Flynn's empathic understanding of her major characters leads to storytelling that is sure and true, and it marks her a write to watch."
– Chicago Sun-Times

"To say this is a terrific debut novel is really too mild. I haven't read such a relentlessly creepy family saga since John Farris's All Heads Turn as the Hunt Goes By, and that was thirty years ago, give or take. Sharp Objects isn't one of those scare-and-retreat books; its effect is cumulative. I found myself dreading the last thirty pages or so but was helpless to stop turning them. Then, after the lights were out, the story just stayed there in my head, coiled and hissing, like a snake in a cave. An admirably nasty piece of work, elevated by sharp writing and sharper insights."
– Stephen King

"Not often enough, I come across a first novel so superb that it seems to have been written by an experienced author, perhaps with 20 earlier books to his or her credit. I'm extremely excited to discover my first debut blowout this year, a sad, horrifying book called Sharp Objects...[Flynn] is the real deal. Her story, writing and the characters will worm their way uncomfortably beneath your skin...But this is more literary novel than simple mystery, written with anguish and lyricism. It will be short-listed for one or more important awards at the end of the year...Sharp Objects is a 2006 favorite so far. I doubt I'll ever forget it."
– Cleveland Plain Dealer

"A deeply creepy exploration of small-town Midwestern values and boasts one of the most deliciously dysfunctional families to come along in a while...[Flynn] handles the narrative with confidence and a surprisingly high level of skill...Wind Gap ends up the sort of place you'd never want to visit. But with Sharp Objects, you're in no hurry to leave."
– San Francisco Chronicle

"Brilliant...Powerful, mesmerizing...A stunning, powerful debut from someone who truly has something to say."
– San Jose Mercury News

"One of the best and most disturbing books I have read in a long time...Flynn never stoops to the gratuitous, and the torment produces haunting characters that hung around my imagination long after I had finished the book. Her skillful blending of old tragedies with new culminated in an 'oh-my-gosh' moment that I never saw coming. This book simply blew me away."
– Kansas City Star

"Don't look here for the unrelenting self-deprecation and the moping over men common chick lit...I promise you'll be thoroughly unnerved at the end."
– Newsweek

"First-time novelist Flynn is a natural-born thriller."
– People Style Watch

"A witty, stylish, and compelling debut. A real winner."
– Harlan Coben

"Flynn delivers a great whodunit, replete with hinting details, telling dialogue, dissembling clues. Better yet, she offers appalling, heartbreaking insight into the darkness of her women's lives: the Stepford polish of desperate housewives, the backstabbing viciousness of drug-gobbling, sex-for-favors Mean Girls, the simmering rage bound to boil over. Piercingly effective and genuinely terrifying."
– Kirkus Reviews (starred review)

"Fans of psychological thrillers will welcome narrator/Chicago Daily Post reporter Camille Preaker with open arms...As first-time novelist Flynn expertly divulges in this tale reminiscent of the works of Shirley Jackson, there is much more to discover about Wind Gap and, most of all, about Camille."
– Library Journal

"This impressive debut novel is fueled by stylish writing and compelling portraits...In a particularly seductive narrative style, Flynn adopts the cynical, knowing patter of a weary reporter, but it is her portraits of the town's backstabbing, social-climbing, bored, and bitchy females that provoke her sharpest and most entertaining writing. A stylish turn on dark crimes and even darker psyches."
– Booklist

"[A] chilling debut thriller...[Flynn] writes fluidly of smalltown America."
– Publishers Weekly

"[Flynn]] offers up a literary thriller that's a doozy...and she does it with wit and grit, a sort of Hitchcock visits Stephen King, with plenty of the former's offstage and often only implied violence, and the latter's sense of pacing and facility with dialogue...This is not a comfortable novel of touchy-feely family fun. Rather, it is a tough tale told with remarkable clarity and dexterity, particularly for a first-time author."
– Denver Post

"A tense, irresistable thriller...Flynn's first-person narration is pitch-perfect, but even more impressive is the way she orchestrates the slim novel's onrushing tension toward a heart-stopping climax."
– Seattle Post-Intelligencer

"Darkly original...Flynn expertly ratchets up the suspense...A disturbing yet riveting tale."
– People

"Skillful and disturbing...Flynn writes so well. Sometimes she dips her pen in acid, sometimes she is lyrical, but always she chooses her words deftly...She has an unsparing eye for human imperfection and for the evil that moves among us."
– Washington Post

"Using understated, almost stark prose, Flynn paints a jagged, unflinching portrait of the vise-like psychological bonds between women, and how their demons lead to the perpetuation of cruelties upon themselves and others. The end result is an unsettling portrait of how long emotional wounds can last- and how deeply they hurt."
– Baltimore Sun

"More in the tradition of Joyce Carol Oates than Agatha Christie, this one will leave readers profoundly disturbed. But from the first line...you know you're in the hands of a talented and accomplished writer."
– The Boston Globe

"[A] breathtaking debut...Written with multiple twists and turns, Sharp Objects is a work of psychological prowess and page-turning thrills."
– Richmond Times

"As suspenseful as the V.C. Andrews books you shared in high school, but much smarter."
- Glamour

"Sharp Objects is one of the freshest debut thrillers to come around in a long while. It's a gripping, substantive story, stripped of cliche, and crafted with great style. The characters are refreshingly real, burdened with psychological issues that enrich the story. And the ending, which I was positive I could predict, is unpredictable. Sharp Objects is, indeed, quite sharp."
--Augusten Burroughs

"Sharp, clean, exciting writing that grabs you from the first page. A real pleasure."
--Kate Atkinson, author of Case Histories and One Good Turn