Exploring Mars: Chronicles from a Decade of Discovery (Paperback)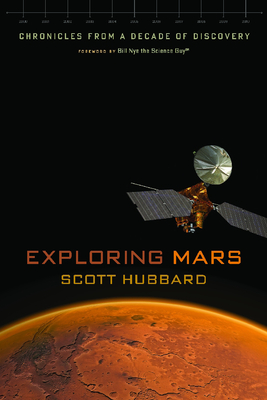 $21.95
Usually Ships in 1-5 Days
Description
---
The Red Planet has been a subject of fascination for humanity for thousands of years, becoming part of our folklore and popular culture. The most Earthlike of the planets in our solar system, Mars may have harbored some form of life in the past and may still possess an ecosystem in some underground refuge. The mysteries of this fourth planet from our Sun make it of central importance to NASA and its science goals for the twenty-first century.  
In the wake of the very public failures of the Mars Polar Lander and the Mars Climate Orbiter in 1999, NASA embarked on a complete reassessment of the Mars Program. Scott Hubbard was asked to lead this restructuring in 2000, becoming known as the "Mars Czar." His team's efforts resulted in a very successful decade-long series of missions—each building on the accomplishments of those before it—that adhered to the science adage "follow the water" when debating how to proceed. Hubbard's work created the Mars Odyssey mission, the twin rovers Spirit and Opportunity, the Mars Reconnaissance Orbiter, the Phoenix mission, and most recently the planned launch of the Mars Science Laboratory. 
Now for the first time Scott Hubbard tells the complete story of how he fashioned this program, describing both the technical and political forces involved and bringing to life the national and international cast of characters engaged in this monumental endeavor.  Blending the exciting stories of the missions with the thrills of scientific discovery, Exploring Mars will intrigue anyone interested in the science, the engineering, or the policy of investigating other worlds.
 
About the Author
---
Scott Hubbard is a professor in the Department of Aeronautics and Astronautics at Stanford University. He has been engaged in space-related research as well as program, project, and executive management for more than 35 years. He spent 20 years at NASA, including serving as director of NASA's Ames Research Center and received NASA's highest award, the Distinguished Service Medal.
Praise For…
---
"It's high time somebody revealed the underbelly of why and how we travel to the Red Planet. Leave it to NASA's 'Mars Czar' Scott Hubbard to tell this story. Yes, we're all explorers, but every mission to space is enabled by financial, political, and cultural forces that you never hear about—without which there'd be no enterprise of discovery at all."—Neil deGrasse Tyson

"Mars is not a friendly place—and neither is Washington. Scott Hubbard knows how to navigate deftly in both places—and the end result is a Mars exploration campaign that emerged like a Phoenix from a pair of smoking holes in the rusty red soil. His story is filled with outsized egos, undersized budgets, and nail-biting tension as he performs mission impossible: turning an epic failure into a space-age triumph."—Miles O'Brien

"Exploring Mars is Hubbard's absorbing story of how he [helped NASA], starting by creating teams of talented scientists and engineers inside a headquarters building that is, as he writes, 'a combination of alphabet soup and numerology' that was rife with internal politics and power trips."—San Francisco Chronicle

"Space-exploration and Mars enthusiasts will find much here to whet their appetites."—Booklist

"Hubbard's strong suit is his yearning for good science at the service of education and public outreach. He outlines the program's balance as regards orbital and land-based exploration, the systems-engineering approach, the expected high level of return, the budgetary consideration and the program's probes into ancient Mars and current Mars. The author closes with an impressive list of the program's successes over the last decade. A lucid, concentrated appreciation of the technological, political and scientific imperatives that guide the nation's approach to Mars."—Kirkus Reviews