The Burglary: The Discovery of J. Edgar Hoover's Secret FBI (Paperback)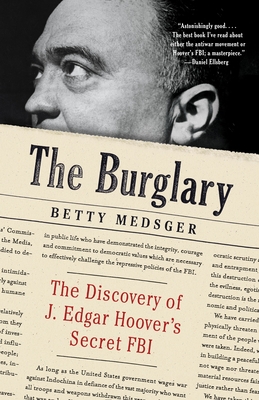 $16.95
Usually Ships in 1-5 Days
Staff Reviews
---
Betty Medsger's The Burglary: The Discovery of J. Edgar Hoover's Secret FBI was a thoroughly detailed and enjoyable read.  Before Watergate and the Pentagon Papers, there was the Media Pennsylvania FBI office burglary.  A small group of activists wanted to expose the truth behind J. Edgar Hoover and his secret illegal actions in the United States.  The group planned a break-in of the offices to find the incriminating evidence and then exposed Hoover through the press.  Betty Medsger was one of the journalists who received copies of the stolen files and then published articles on the findings. Many years later, she learned the identities of the people in the activist groups and was able to interview them bringing even more information to light.
This amazing book looks at not only how the activist group decided to commit the crime but how they carried it out, as well as  the toll it took on many of them.  Medsger examines the aftermath for the FBI and more importantly, the lengths which Hoover was willing to go to control citizens, congress and even the president.  The amount of detail that Medsger includes is incredible. Most of the information I was unaware of or had forgotten.  If you are an American History buff, this would be an excellent choice to read.
— Tricia
Description
---
In late 1970, a mild-mannered Haverford College physics professor privately asked a few people this question: What do you think of burglarizing an FBI office? In remarkable detail and with astonishing depth of research, Betty Medsger reveals the never-before-told full story of the history-changing break-in at the Media, Pennsylvania, FBI offices. Through their exploits, a group of unlikely activists exposed the shocking truth that J. Edgar Hoover was operating a shadow Bureau engaged in illegal surveillance and harassment of the American people.
The Burglary brings the activists, who have kept their secret for forty-three years, into the public eye for the first time including, new to this edition, the recent discovery of the eighth and final member of the team. The burglars story of personal sacrifice and civil disobedience is a vital episode in the American whistle-blower tradition that includes the Pentagon Papers, Watergate's Deep Throat, and, most recently, Edward Snowden and the NSA.
About the Author
---
Betty Medsger first wrote about the Media files as a reporter at The Washington Post in 1971. She is a founding member of Investigative Reporters and Editors (IRE) and founder of the Center for Integration and Improvement of Journalism at San Francisco State University, where she was chair of the Department of Journalism. She is the author of Women at Work, Framed: The New Right Attack of Chief Justice Rose Bird and the Courts and Winds of Change: Changes Confronting Journalism Education. She lives in New York with her husband, John T. Racanelli.