La casa de Hades: Los héroes del Olimpo 4 (Los Heroes del Olimpo #4) (Paperback)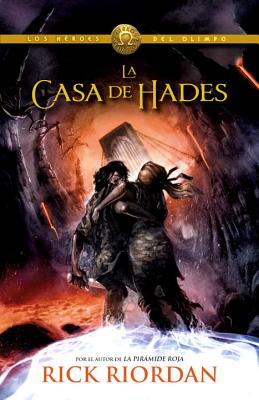 $10.95
Email or call for price.
Other Books in Series
This is book number 4 in the Los Heroes del Olimpo series.
Staff Reviews
---
House of Hades
By Rick Riordan
To begin, his dedication page was to his readers:
"To my wonderful readers:
Sorry about that last cliff-hanger.
Well, no not really. HAHAHAHA.
But seriously, I love you guys."
I love Rick Riordan's sense of humor in his books, and The House of Hades is no exception. There are plenty of serious moments, but the light-hearted moments make it so much more entertaining.
In the previous book, The Mark of Athena, we are left with Percy and Annabeth plunging into the depths of Tartarus. They must reach the doors of Death from Hades' side, while others meet them on the other side of the doors.  Together, the doors must be closed to prevent Gaea's minions from raising her and ruling the earth.  Bob the Titan is back and Percy and Annabeth would not have survived Tartarus if not for him. While Percy and Annabeth face their own challenges head-on in the Underworld, the other demigods must each face their own…and they do so amazingly. Each one grows, some of them you can literally see physical changes. Frank undergoes a tremendous growth spurt, both in stature and as a leader.  It was nice to see him step it up.  I also especially liked that Leo had some time with Calypso; it would be nice to see them back together. And Nico's surprising revelation was totally unexpected; did not see that one coming! The subject matter was handled very well by Riordan.  I cannot wait for the next, and final installment of the Heroes of Olympus. Here's hoping that Riordan continues with Percy and the group in another series.
— Sherry
Description
---
Un ejército de monstruos.
 
Siete chicos al límite de sus fuerzas.
 
Y solo unas horas para salvar la humanidad.
 
Gaia, la madre tierra, se ha propuesto destruir el mundo de los mortales con sus tropas de monstruos y gigantes, y solo hay un modo de impedirlo: cerrar las Puertas de la Muerte, por donde estas criaturas están escapando de los infiernos. Y, lo más importante, hay que hacerlo desde fuera... y desde dentro.
 
Hazel, Nico, Piper, Leo, Frank y Jason han descubierto que la parte exterior se halla en Grecia, en el templo de Hades, dios del inframundo, aunque tienen un largo viaje hasta allí e ignoran a qué deberán enfrentarse cuando lleguen.
 
Mientras, Percy y Annabeth se encuentran en algún lugar al otro lado, luchando por su supervivencia, por encontrar las puertas... y por salir antes de que sea demasiado tarde.
About the Author
---
Rick Riordan es el autor de la serie de libros para niños Percy Jackson, bestseller número uno de The New York Times, así como la galardonada serie de misterio Tres Navarre para adultos. Durante quince años, Riordan enseñó inglés e historia en escuelas secundarias en San Francisco y Texas. Actualmente vive en Boston con su esposa y sus hijos.