Slasher Girls & Monster Boys (Hardcover)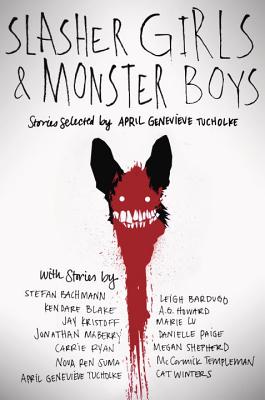 $17.99
Usually Ships in 1-5 Days
Staff Reviews
---
Slasher Girls & Monster Boys compiled by April Genevieve Tucholke is an engrossing spooky read. If you are craving something that will have your skin crawling before Halloween, then this is the perfect read. The book is a compilation of short stories from some amazing YA authors, such as Marie Lu, Danielle Paige, Carry Ryan, Jonathan Maberry, Leigh Bardugo just to name a few. Each author used a previously published story, movie, or song for inspiration and then re-imagines the tale. At the end they tell you what the inspiration was. Some tales were filled with bloody and disturbing details, but others were more psychological horror that really let your imagination go crazy. After I finished a story, I was excited to go on and see what new sinister creature was lurking around the next page.
The writing throughout is fantastic. Each author created complex characters in a short amount of time as well as really capturing the dark atmosphere. There were definitely times where my hair stood on edge. I really love how creepy this book is and that it is geared for YA readers. It just goes to show that some of the most haunting tales can exist without all of the graphic details.
My favorite short stories were In the "Forest Dark and Deep" by Carrie Ryan and "Hide-and-Seek" by Megan Shepard.  
— Jody
Description
---
For fans of Stephen King, Neil Gaiman, American Horror Story and The Walking Dead comes a powerhouse anthology featuring some of the best thriller and horror writers in YA

A host of the sharpest young adult authors come together in this collection of terrifying tales and psychological thrillers. Each author draws from a mix of literature, film, television, and music to create something new and fresh and unsettling. Clever readers will love teasing out the references and can satisfy their curiosity at the end of each tale, where the inspiration is revealed. There are no superficial scares here; these are stories that will make you think even as they keep you on the edge of your seat. From blood horror, to the supernatural, to unsettling, all-too-possible realism, this collection has something for anyone looking for an absolute thrill.

Stefan Bachmann
Leigh Bardugo
Kendare Blake
A. G. Howard
Jay Kristoff
Marie Lu
Jonathan Maberry
Danielle Paige
Carrie Ryan
Megan Shepherd
Nova Ren Suma
McCormick Templeman
April Genevieve Tucholke
Cat Winters
About the Author
---
April Genevieve Tucholke is the author of Between the Devil and the Deep Blue Sea and Between the Spark and the Burn. She lives in Oregon.
Praise For…
---
Praise for Slasher Girls & Monster Boys:

A YALSA Quick Pick for Reluctant Readers

"If your idea of an excellent summer night is telling ghost stories around the campfire, you'll be jumping for (horrific) joy over Slasher Girls & Monster Boys."—Bustle

"Terrifying and new . . . There's nary a clunker in the collection—this is satisfying, disturbing horror for the modern YA audience." —Publishers Weekly

"Murderous neighbors, creepy bathtubs, and lots of blood . . . Full of thrills and chills [and] gross, creepy fun." —Kirkus Reviews

"This killer collection will satisfy any thriller junkie."—Booklist Online

"Satisfyingly diverse and compelling. . . . The majority of the protagonists are female [but] not one is a helpless victim. Many contributors subvert and complicate the roles of protagonist and antagonist, keeping readers on their toes . . . After encountering the horrors here, variously supernatural and disturbingly human, readers may want to leave the lights on.—The Horn Book

"Will scare, thrill, and terrify."—VOYA

"A ton of terrifying mini thrillers that take inspiration from classic stories. There's a bit of supernatural in here, some gore-filled-horror, terrifying creatures . . . something for everybody."—Book Riot

Praise for the authors:

April Tucholke's Between the Devil and the Deep Blue Sea:
"Deliciously creepy."—TheAtlanticWire.com
* "A stunning debut with complex characters, an atmospheric setting, and a distinct voice . . . Tucholke has real talent."—VOYA, starred review

Stefan Bachmann's The Peculiar:
"Richly realized . . . accomplished . . . This is a story young fantasy buffs are sure to enjoy."—New York Times Book Review

Leigh Bardugo's Shadow and Bone:
"Mesmerizing . . . Bardugo's set up is shiver-inducing, of the delicious variety. This is what fantasy is for."—New York Times

Kendare Blake's Anna Dressed in Blood:
* "Abundantly original, marvelously inventive and enormous fun, this can stand alongside the best horror fiction out there. We demand sequels."—Kirkus, starred review

Marie Lu's The Young Elites:
* "Lu pivots from the 'coming of age via romance' formula to pry apart the many emotions that pass under the rubric of love . . . there are no safe places where the pressures of betrayal, death threats, and rejection aren't felt."—Publishers Weekly, starred review
* "Readers should prepare to be captivated."—Booklist, starred review
* "A must for fans of . . . totally immersive fantasies."—Kirkus, starred review

Marie Lu's Legend trilogy:
New York Times Bestsellers
"Legend doesn't merely survive the hype, it deserves it."—New York Times

Megan Shepherd's The Madman's Daughter:
* "The fast-paced book is rife with excitement, romance, and intrigue."—SLJ, starred review

Nova Ren Suma's 17 & Gone:
* "This is ingeniously crafted."—BCCB, starred review

Cat Winters's In the Shadow of Blackbirds:
* "A story of the breaking point between sanity and madness, delivered in a straightforward and welcoming teen voice."—Booklist, starred review