These Things Hidden: A Novel of Suspense (Paperback)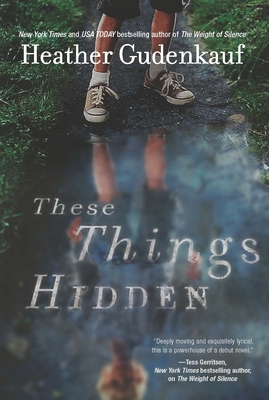 $15.95
Usually Ships in 1-5 Days
Staff Reviews
---
These Things Hidden by Heather Gudenkauf is a compelling and often heartbreaking work of fiction that will be coming out at the end of this month (January 25th in paperback!). I found myself completely sucked into the story and unable to put it down. The novel is written from the perspective of four women who are all connected to one little boy. At times I found myself wishing the book was only told from one perspective, but after finishing the story I realize that much of the emotional turmoil would have been lost without the strong involvement of all four. This is a tale of one teenage girl who was sent to prison for a terrible crime and her need to reconnect with her sister. After getting out of prison, Allison starts trying to piece her life back to "normal". She is able to get a job at a local bookstore and she finds herself hopeful with reconnecting with her sister Brynn. Her life may yet turn around. Then she meets her boss' son, and Allison realizes her life is once again spinning out of control. She knows that the only person she can talk to is her estranged sister. This is the main storyline in the book, but there are several subplots for each character involved making the overall novel complex and captivating. The ending caught me off guard giving the story yet one more dimension and Gudenkauf did a great job with her characters. I especially like how the reader slowly learns more about the infamous night that sent Allison to prison keeping you engaged to the very end of the book. This is a great book if you are looking for a contemporary fiction novel.
— Jody
February 2011 Indie Next List
---
"Allison Glenn has just been released from prison for a heinous crime committed when she was 16. Now 21, she is returning to her hometown, Linden Falls, to try and make reparations with her parents and Brynn, her sister, who was with her the night of the crime. A story too often seen in the news is shared anew in this powerful novel of family responsibility, which demonstrates that the choices one makes will affect oneself and others for a lifetime."
— Karen Briggs, Great Northern Books and Hobbies, Oscoda, MI
Description
---
When teenager Allison Glenn is sent to prison for a heinous crime, she leaves behind her reputation as Linden Falls' golden girl forever. Her parents deny the existence of their once-perfect child. Her former friends exult her downfall. Her sister, Brynn, faces whispered rumors every day in the hallways of their small Iowa high school. It's Brynn--shy, quiet Brynn--who carries the burden of what really happened that night. All she wants is to forget Allison and the past that haunts her. But then Allison is released to a halfway house, and is more determined than ever to speak with her estranged sister. Now their legacy of secrets is focused on one little boy. And if the truth is revealed, the consequences will be unimaginable for the adoptive mother who loves him, the girl who tried to protect him and the two sisters who hold the key to all that is hidden.
About the Author
---
Heather Gudenkauf is an Edgar Award nominated, New York Times and USA Today bestselling author. Heather lives in Iowa with her husband and children. In her free time Heather enjoys spending time with her family, reading, and running.
Praise For…
---
"The Weight of Silence is a tense and profoundly emotional story of a parent's worst nightmare, told with compassion and honesty. Heather Gudenkauf skillfully weaves an explosive tale of suspense and ultimately, the healing power of love."
- #1 New York Times bestselling author Susan Wiggs



"Deeply moving and exquisitely lyrical, this is a powerhouse of a debut novel."
-New York Times bestselling author Tess Gerritsen on The Weight of Silence



"Beautifully written, compassionately told, and relentlessly suspenseful."
-New York Times bestselling author Diane Chamberlain on The Weight of Silence



"Gudenkauf's scintillating second suspense novel...slowly and expertly reveals the truth in a tale so chillingly real, it could have come from the latest headlines."
-Publishers Weekly on These Things Hidden, starred review



"One Breath Away takes the reader on an electrifying ride that is, by the end, both terrifying and satisfying. I dare you to forget it."
- New York Times bestselling author Elizabeth Flock



"I have burns on my fingers from turning the pages too fast. Don't miss it. This is her best yet!"
-New York Times bestselling author Lesley Kagen on One Breath Away



"Gudenkauf...keep[s] the tension high and the reader glued to the pages."
-Publishers Weekly on One Breath Away