Let the Dead Sleep (Cafferty & Quinn Novels) (Mass Market Paperbound)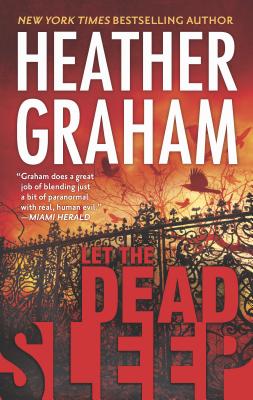 Email or call for price
Special Order - Subject to Availability
Staff Reviews
---
After reading FaceOff, I knew there were several new authors I wanted to read. My fist pick was Heather Graham's Let the Dead Sleep. Her character that was featured in FaceOff was so intriguing that I wanted to know more about her, and let me say wow, it was excellent. The book takes place in New Orleans and is a mystery with a bit of a paranormal kick. Danni is the owner of an antique shop and for the most part nothing too exciting happens. However everything changes when a mysterious statue is brought to her store. Before she can even decide to buy it, the original owner is found dead and the statue is missing. Danni discovers that she is not the only one looking for the statue. A PI has been trying to track it down and destroy it and the long evil history that goes with it.  Joining forces, the two begin the harrowing search.
As I said before, this is a great book with not only suspense but quite a bit of creepiness too. In fact there were a few times that I had to set the book down because it was just too late at night to be reading a scary novel. Graham does a great job creating all of her characters. Their interactions are engaging and genuine and it is easy to start rooting for them. I also enjoyed the southern setting. Graham did a great job of incorporating the spooky elements of New Orleans into her tale along with a side of southern charm. If you enjoy your mysteries on the scarier side, then this is the perfect series to start.
— Tricia
Description
---
An Object of Desire? Or of Fear? It was stolen from a New Orleans grave--the centuries-old bust of an evil man, a demonic man. It's an object desired by collectors and by those with wickedness in their hearts. One day, its current owner shows up at Danni Cafferty's antiques shop on Royal Street, the shop she inherited from her father. But before Danni can buy the statue, it disappears and the owner is found dead.... Michael Quinn, former cop and now private investigator, is determined to find and destroy this object with its long history of evil and even longer trail of death. He and Danni are drawn together in their search for the missing statue, following it through sultry New Orleans nights to hidden places in the French Quarter and secret ceremonies on abandoned plantations. But Cafferty and Quinn know that their story won't end when this case is closed and the dead rest in peace once again.