The House of the Four Winds: Book One of One Dozen Daughters (Paperback)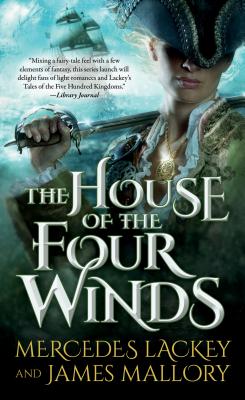 $9.89
Special Order - Subject to Availability
Description
---
Mercedes Lackey is the New York Times bestselling author of the Valdemar series and romantic fantasies like Beauty and the Werewolf and The Fairy Godmother. James Mallory and Lackey have collaborated on several novels. Now these New York Times and USA Today bestselling collaborators bring romance to the fore with The House of the Four Winds.
The rulers of tiny, impoverished Swansgaard have twelve daughters and one son. While the prince's future is assured, his twelve sisters must find their own fortunes.
Disguising herself as Clarence, a sailor, Princess Clarice intends to work her way to the New World. When the crew rebels, Clarice/Clarence, an expert with rapier and dagger, sides with the handsome navigator, Dominick, and kills the cruel captain.
Dominick leads the now-outlawed crew in search of treasure in the secret pirate haven known as The House of Four Winds. They encounter the sorceress Shamal, who claims Dominick for her own--but Clarice has fallen hard for Dominick and won't give him up without a fight.
Full of swashbuckling adventure, buoyant magic, and irrepressible charm, The House of the Four Winds is a lighthearted fantasy romp by a pair of bestselling writers.
About the Author
---
Mercedes Lackey is the author of the bestselling Valdemar series, the Obsidian Trilogy (The Outstretched Shadow, To Light a Candle, and When Darkness Falls), the Enduring Flame trilogy (The Phoenix Unchained, The Phoenix Engendered, and The Phoenix Transformed), and The Phoenix Tales of the Five Hundred Kingdoms. She has written many other books, including Trio of Sorcery, Phoenix and Ashes, Sacred Ground, The Firebird, The Fairy Godmother, and Alta. Lackey is the co-author, with Andre Norton, of the Halfblood Chronicles, including Elvenborn. Mercedes Lackey was born in Chicago and graduated from Purdue University. She has worked as an artist's model, a computer programmer, and for American Airlines, and has written lyrics and recorded more than fifty songs. She lives in Oklahoma.

James Mallory is the author of the Merlin trilogy (Merlin: The Old Magic; Merlin: The King's Wizard; Merlin: The End of Magic). He lives in upstate New York.