Antiagon Fire: The Seventh Book of the Imager Portfolio (Mass Market)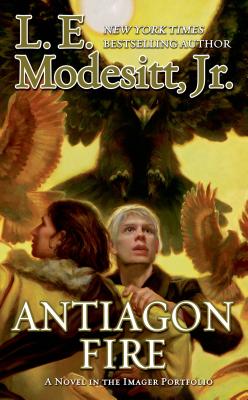 Other Books in Series
This is book number 7 in the The Imager Portfolio series.
Description
---
The Imager Porfolio is a bestselling and innovative epic fantasy series from L. E. Modesitt, Jr. that RT Book Reviews says "shines with engrossing characters, terrific plotting, and realistic world-building." Continue the journey with Antiagon Fire.
Now a full commander, Quaeryt has a mission to convince the Pharsi High Council to submit to Lord Bhayar's rule, which is key to Bhayar's ambition to unite all of Solidar.
Quaeryt leads an army and a handful of imagers deeper into the hostile lands, facing stiff-necked High Holders, attacks by land and sea, and a mysterious order of powerful women who seem to recognize the great destiny that awaits Quareyt, as well as the cost of achieving it.
The Imager Portfolio
#1 Imager / #2 Imager's Challenge / #3 Imager's Intrigue / #4 Scholar / #5 Princeps / #6 Imager's Battalion / #7 Antiagon Fire / #8 Rex Regis / #9 Madness in Solidar / #10 Treachery's Tools / #11 Assassin's Price
Other series by this author:
The Saga of Recluce
The Corean Chronicles
The Spellsong Cycle
The Ghost Books
The Ecolitan Matter
About the Author
---
L. E. Modesitt, Jr., is the bestselling author of the fantasy series The Saga of Recluce, Corean Chronicles, and the Imager Portfolio. His science fiction includes Adiamante, the Ecolitan novels, the Forever Hero Trilogy, and Archform: Beauty. Besides a writer, Modesitt has been a U.S. Navy pilot, a director of research for a political campaign, legislative assistant and staff director for a U.S. Congressman, Director of Legislation and Congressional Relations for the U.S. Environmental Protection Agency, a consultant on environmental, regulatory, and communications issues, and a college lecturer. He lives in Cedar City, Utah.
Praise For…
---
"Solidly engrossing." —Kirkus Reviews on Princeps
"The author excels in creating worlds that are believable down to the last detail and characters whose vitality expresses itself in actions that have resounding consequences." —Library Journal on Scholar
"Quaeryt is a fascinating character, and his trials and journey are action packed and yet intellectual." —RT Book Reviews, 4 stars, on Scholar
"Modesitt has only one style: subtle intrigues anchored in vividly drawn, complex characters, stiffly formal conversations and descriptional arabesques in tones of gray. Perhaps the best so far in this consistently fascinating series." —Kirkus, Starred Review, on Scholar
"Modesitt's work shines with engrossing characters, terrific plotting, and realistic world-building." —RT Book Reviews on Imager
"The Imager Portfolio features some of the best characters Modesitt has ever created." —Booklist on Imager's Challenge
"Modesitt has drawn a superb portrait of an honest and powerful man handed a crisis that even he may not be able to handle. . . . Extremely satisfying." —Booklist on Imager's Intrigue